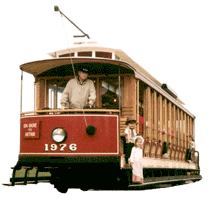 Gomaco Trolley Company, located in Ida Grove, Iowa, is the manufacturer of authentic vintage trolley cars which match the precision and quality craftsmanship of yesterday and incorporate the engineering technology of today.
Gomaco can provide you with trolley manufacturing and engineering consultation on restoration or renovation of existing trolley cars or in the manufacturing of new trolley cars.


Gomaco Trolley Company takes pride in the craftsmanship that goes into every manufactured trolley. The goal is to keep the trolley cars as authentic as possible and to match the quality workmanship that went into the trolleys of the past. This has been accomplished along with using modern technology to improve the durability.
The framework is built with steel. Gomaco also provides authentic brass parts from our foundry and wood beauty from our highly skilled craftsmen. Gomaco Trolley Company builds brass parts to meet all standard trolley requirements and to provide exact replicas cast from dies of authentic trolley parts. If you are in need of a special part, Gomaco will make a die and build exactly what you need.
Gomaco trolley cars are built to meet requirements of existing lines. The trolleys are presently running on standard 600 volt D.C. systems and can be built to be compatible with light rail vehicle 750 volt D.C. systems.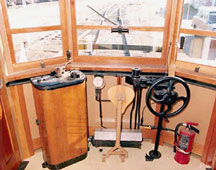 Gomaco engineering has designed the trolley operator's station for ease of operation and safety. The station is designed for excellent visibility and all controls are within easy reach of the operator.


Gomaco offers a large assortment of parts and accessories for trolley restoration, renovation and collectors of trolley memorabilia. Featured items are built from quality wood, iron and steel. Gomaco's Trolley Foundry will build brass parts to provide exact replicas cast from dies of authentic trolley parts from around the world.
Gomaco Trolley Company specializes in restoration or renovation of your trolley truck assembly. Gomaco also will build the seat assembly with the finest craftsmanship in the world, whether you choose cane seats or wooden seats with backs of ash and cherry in a variegated pattern and ash seat bottoms. Precision craftsmanship combined with quality materials also provide a beautiful interior and exterior design for trolley doors and windows.


Exact replicas can be built based on trolley photos. Gomaco Trolley Company built an exact replica of the 1902 J.G. Brill trolley car for the Lowell National Historical Park in Lowell, Massachusetts, in 1984 based on a black and white photograph.
Gomaco's trolleys based on old world craftsmanship can be seen riding the rails from coast to coast in the United States. Trolley attractions are evident in Massachusetts, Tennessee, Colorado, Oregon, North Carolina, Arkansas, Florida and Iowa. Trolleys to be refurbished have come from as far away as Australia and Italy.