15-Bench Open-Style Trolley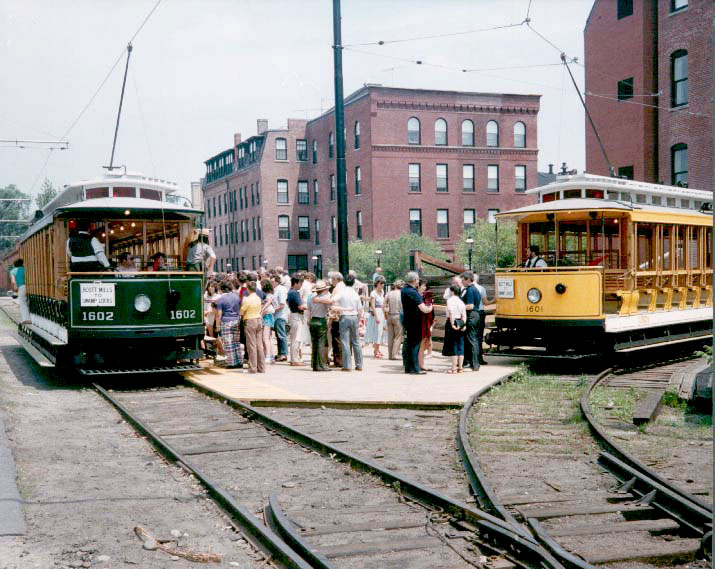 Gomaco Trolley Company began building trolley cars in 1982 with a contract from the Department of the Interior. This contract called for the construction of two open-style, double-truck trolley cars for the Lowell National Historical Park in Lowell, Massachusetts. The cars, numbered #1601 and #1602, were delivered in 1984.
In 1986, open-style car #1976 was constructed. It operated for several years for the Mason City-Clear Lake Historical Railway Society in Mason City, Iowa, and is currently in Tampa, Florida.
In 1988, open-style car #1977 was built for local use. This was a self-propelled trolley with an on-board generator unit. It was leased to the Denver Tramway Heritage Society in Denver, Colorado, starting in 1989.
These cars are authentic reproductions of the 1597-1600 series cars manufactured by J.G. Brill Company. Historical accuracy and attention to detail were key factors in production of the cars.
Video Presentation - Construction Of The #1601 and #1602 Trolleys
Produced In 1984
15-Bench Open Trolley Specifications
Car Numbers:
#1601, #1602 - Lowell Historical Preservation Commission, Lowell, Massachusetts.
#1976 - Hillsborough Area Regional Transit's (HART) TECO Line Streetcar System, Tampa, Florida.
#1977 - Denver Tramway Heritage Society, Denver, Colorado.
Car Builder: Gomaco Trolley Company, Ida Grove, Iowa 51445.
Source of Running Equipment: Melbourne and Metropolitan Tramways Board.
Running Equipment: MV 101 motors from Australia, 40 hp., 600 volts, air brakes, and CP 27 compressor.
Controls: General Electric K35 controller.
Length: 43.5 feet.
Width: 10.1 feet.
Height: 11.8 feet.
Weight (approximate): 34,000 pounds.
Balanced Speed: 30 mph.
Seating: 90.
Total Crush Load: 90 sitting (does not include operator).
Seats: Alternating ash and cherry. 11 walk-over benches. 3 stationary benches.
Frame: New steel construction developed by Gomaco Trolley Company.
Fittings, Solid Brass: New castings by Gomaco Trolley Company.
Woods:
Double grab bars and foot rests - ash.
Seat backs - ash and cherry in variegated pattern.
Seat bottoms - ash.
Seat end posts - ash.
Inside ceiling - birch veneer.
Floor - plywood subfloor with grooved maple boards on wearing surfaces, Douglas fir under seats.
Running Boards/Steps: Double wood steps, lower one folds. Runs the full length on each side of the car.
Paint: Solid green, solid yellow, and solid red. Color and details are selected by customer.
Clerestory Glass: Clear red at ends, white glue glass on sides.
Lights: 11 interior, 2 headlights reproduced by Gomaco Trolley Company.
Whistles: Ohio Brass three-tone air chime with WABCO valves.
Signal Bell: Brass, made by Gomaco Trolley Company. A floor pedal to operate on each end of the car.
Brakes: Air-operated friction brakes.
Floor: Plywood subfloor with grooved maple boards on wearing surfaces, Douglas fir under seats.
Ceiling: 1/4 inch birch plywood, varnished and hand pin striped.
Roof: Plywood roof with painted canvas cover.

Floor plan for the open-style trolleys.