Semi-Convertible Enclosed Trolley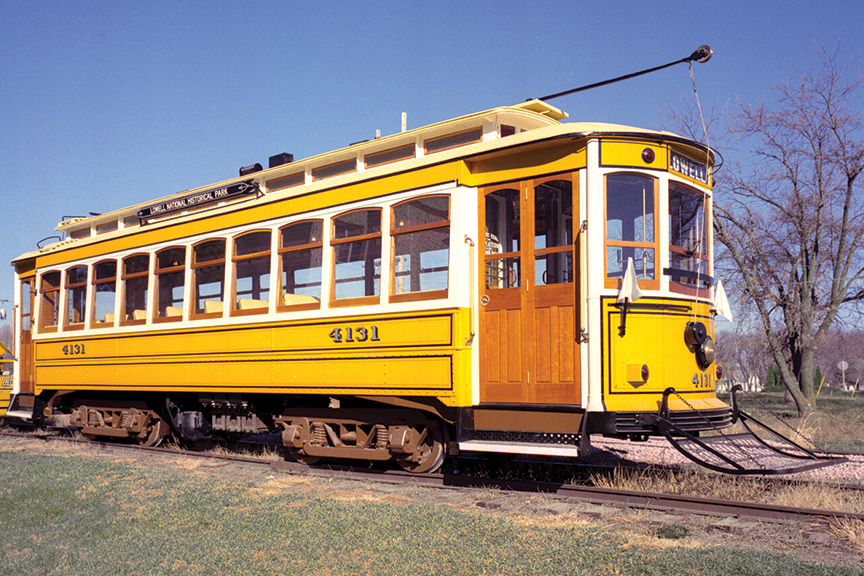 Gomaco Trolley Company built the first closed, double-truck trolley car in the United States since the early 1900s. This authentic replica has been operating since 1986 in Lowell, Massachusetts, at the Lowell National Historical Park.
This car is an authentic reproduction of the 4100 series car manufactured by St. Louis and Laconia Car Company for the Bay State Railway in the early 1900s. Historical accuracy and attention to details were key factors in the production of this car.
Semi-Convertible Enclosed Trolley Specifications
Car Numbers: #4131 - Lowell Historic Preservation Commission, US Department of the Interior.
Car Builder: Gomaco Trolley Company, Ida Grove, Iowa 51445.
Source of Running Equipment: Melbourne and Metropolitan Tramways Board.
Running Equipment: MV 101 GE motors, 40 hp, 600 volts, air brakes, and CP27 compressor.
Controls: General Electric K35 controllers.
Length: 39.7 feet.
Width: 8.5 feet.
Height: 11.8 feet.
Weight (approximate): 38,000 pounds.
Balanced Speed: 30 mph.
Seating: 40 sitting, 25 standing (based on six people per square meter).
Total Crush Load: 65 people (does not include the operator).
Seats: Cane seats. 12 rollover. Four stationary corner seats.
Frame: New steel construction developed by Gomaco Trolley Company.
Windows: 10 per side.
Fittings, Solid Brass: New castings by Gomaco Trolley Company.
Woods: Window sash and interior trim and doors - cherry.
Outer woodwork - ash.
Headlining - birch veneer.
Floor - plywood subfloor with grooved maple boards on wearing surfaces, Douglas fir under seats.
Paint: Yellow, with white trim. Color and details are selected by customer.
Clerestory Glass: Clear red at ends, except center, white glue glass on sides.
Lights: 11 interior, 2 General Electric Company headlights from Melbourne, Australia, and one portable arc light by Gomaco Trolley Company.
Whistles: Ohio Brass three-tone air chime with WABCO valves.
Steps: Four permanent-mounted steps. One at each corner door entry.
Signal Bell: Brass, made by Gomaco Trolley Company. A floor pedal to operate on each end of the car.
Brakes: Air-operated friction brakes.
Floor: Plywood subfloor with grooved maple boards on wearing surfaces. Douglas fir under seats.
Ceiling: 1/8 inch birch plywood, painted and hand pin striped.
Roof: Plywood roof with painted canvas cover.

Floor plan for the semi-convertible, enclosed trolley.