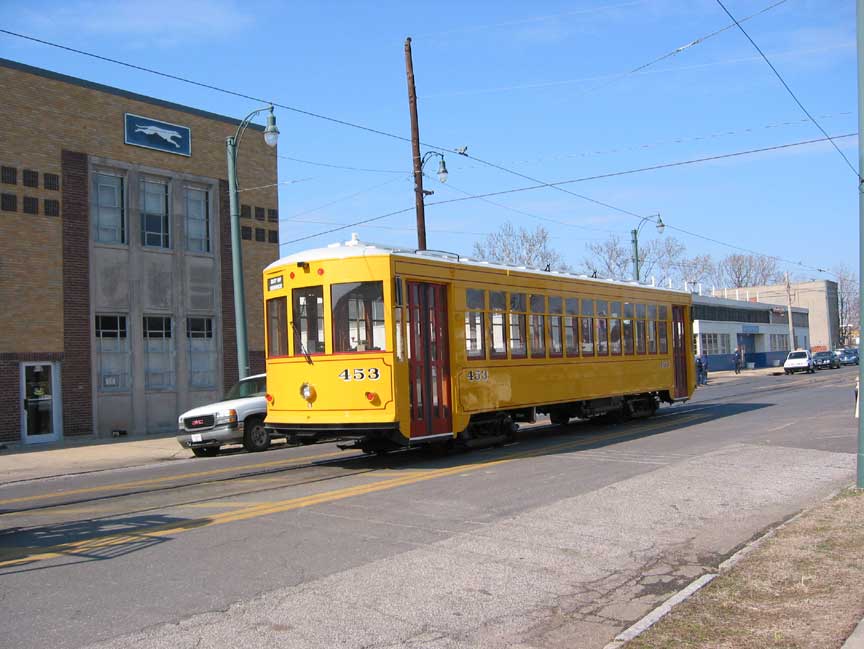 The Memphis Area Transit Authority (MATA) has 35 trolley station/stops and 11 Gomaco trolleys, including nine reconditioned Melbourne trolleys and one single-truck semi-convertible enclosed trolley. MATA's 11th and newest Gomaco car is replica Birney trolley #453.
According to MATA's website, "the authentic vintage trolley cars invoke memories of the simple days of yesteryear - a much more innocent time in Memphis history. The trolleys combine Memphis' rich past with its optimistic future..." Today, the trolleys, including the replica Birney, follow the same route as the mule-drawn trolleys operating over 50 years ago.
The Birney offers the same environmentally-friendly, and "green" benefits that the mules of the past did, but with the benefits of advanced technology. Plus, the ring of the hand-forged Gomaco Trolley brass bell has a decidedly nicer ring than the braying of an obstinate mule.
Memphis, Tennessee – One Birney Car
Memphis Area Transit Authority (MATA) Replica Birney Trolley Specifications
Car Number: #453.
Car Builder: Gomaco Trolley Company, Ida Grove, Iowa 51445.
Source of Running Equipment: Reconditioned W2 Type B Melbourne from Australia.
Running Equipment: 40 HP, MV101. 650 volts, air/friction brakes. CP27 compressor.
Controls: K35 contact controller.
Length: 46.1 feet.
Width: 10 feet.
Height: 13.25 feet.
Weight (approximate): 47,000 pounds.
Balanced Speed: 30 mph.
Seating: 42 sitting, 45 standing (based on six people per square meter).
Total Crush Load: 87 people (does not include the operator).
Seats: Alternating oak and cherry. 10 rollover, bi-directional transverse benches. Two fixed longitudinal benches.
Frame: New steel construction developed by Gomaco Trolley Company.
Windows: 13 per side.
Fittings, Solid Brass: New castings by Gomaco Trolley Company.
Woods: Oak, cherry, birch, and plywood.
Paint: Gold and red. Color and details are selected by customer.
Whistles: Three-tone air chime with WABCO valves. Constructed by Gomaco Trolley Company.
Communication System: Conductor PA system.
E-Stops: Red emergency stop button located in each operator station.
Steps: Pneumatic sliding steps.
Signal Bell: Brass, made by Gomaco Trolley Company.
Brakes: Pneumatic friction brakes with composite shoes and regenerative motor braking. Manual friction parking brake. Full dead-man integration at both operator locations.
Floor: Transit flooring.
Ceiling: Birch. Custom pin stripe. Integrated duct work for air conditioning.
Roof: Plywood construction with fiberglass shell and canvas cover.

The floor plan for the Memphis Area Transit Authority replica Birney trolley.
Construction Of Memphis Trolley
Replica Birney Trolley PDF Brochure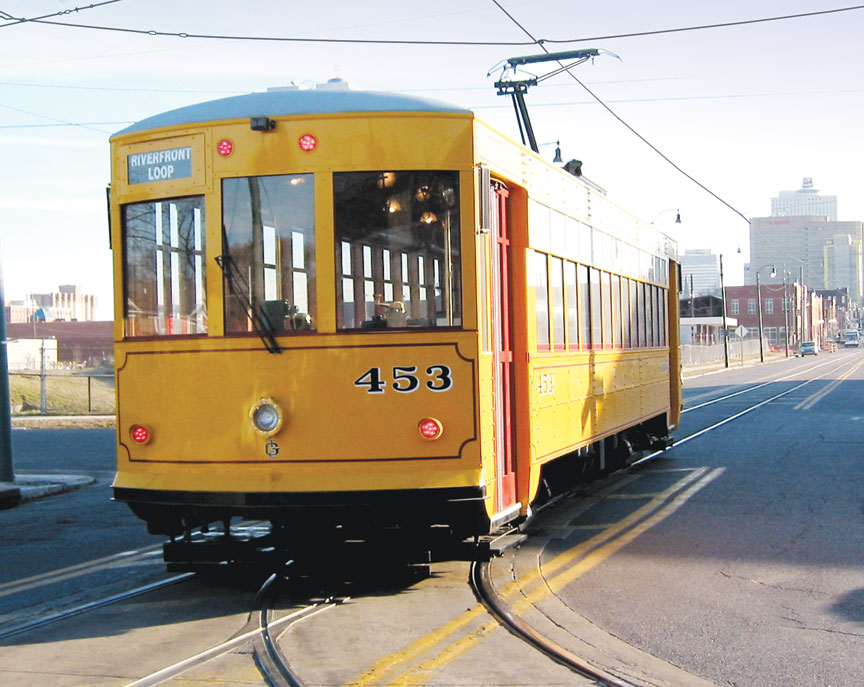 Trolleys combine Memphis' rich past with its future, and follow the same route as the mule-drawn trolleys operated on more than 50 years ago.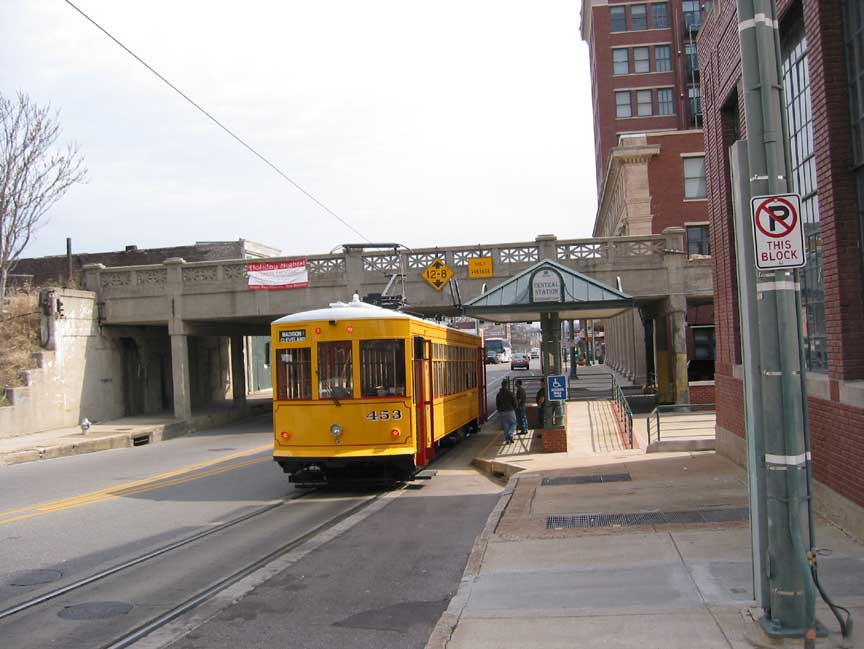 The replica Birney trolley operates beside vehicles as it travels along the route. It accommodates 42 sitting passengers, and 45 standing.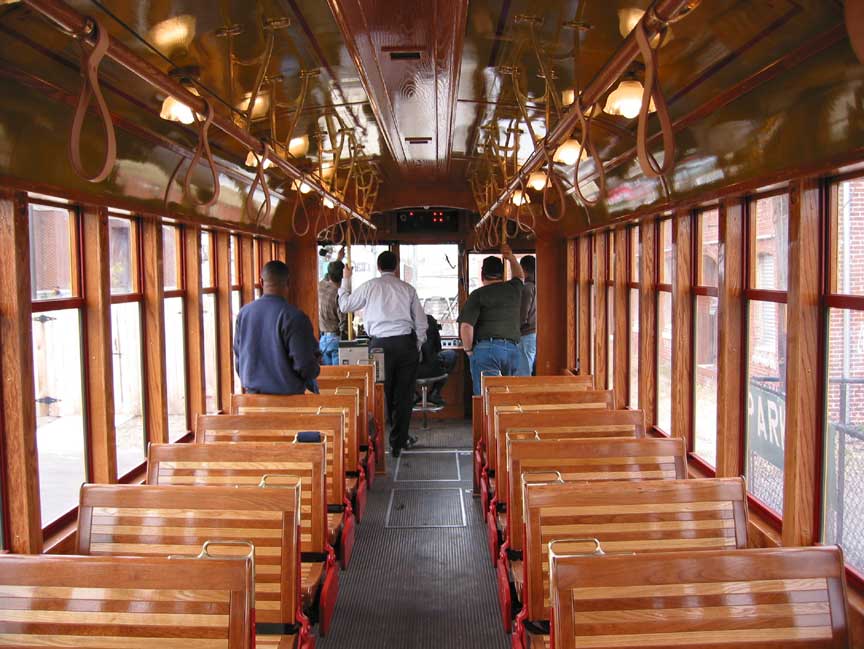 The rollover seats in trolley #453 are constructed of alternating oak and cherry wood. The floor is transit flooring.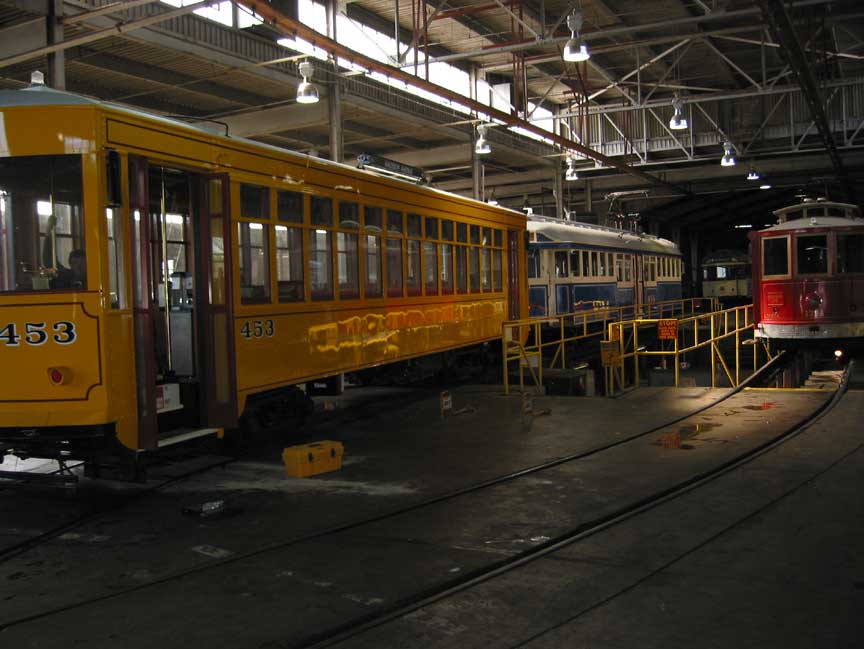 The Memphis Birney is parked in the trolley shed with two more of the line's vehicles.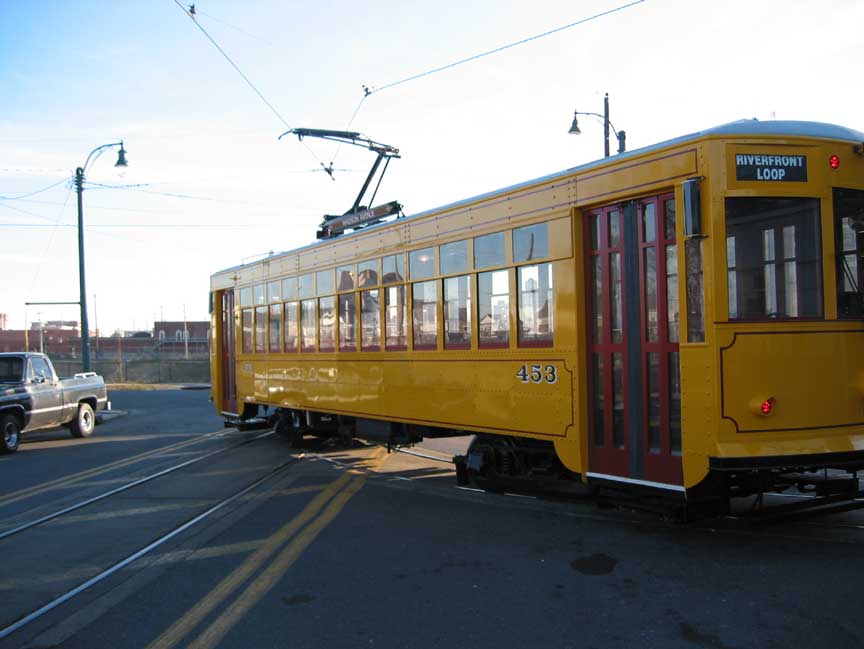 Each side of replica Birney trolley #453 has 13 windows.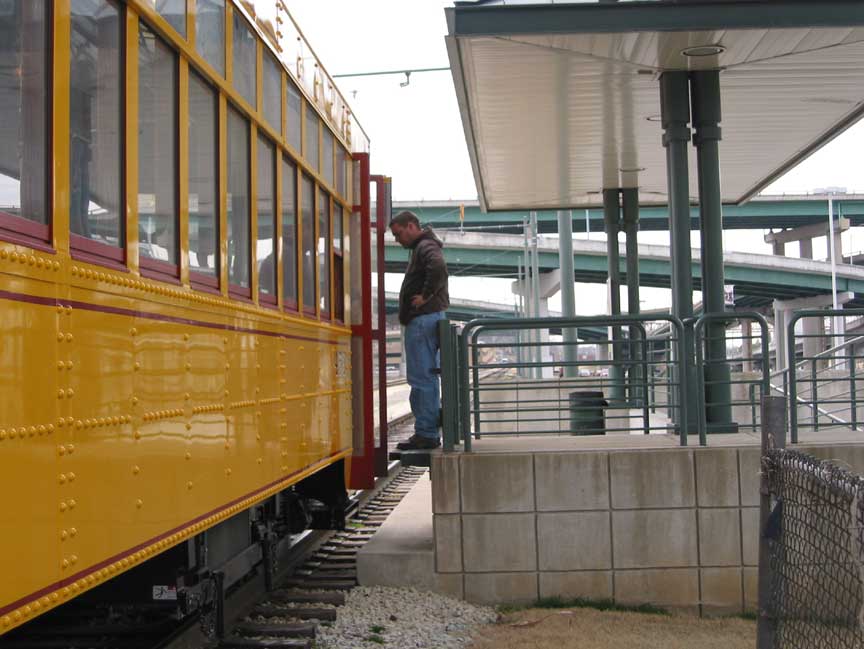 A rider waits at one of the trolley stations in downtown Memphis, Tennessee.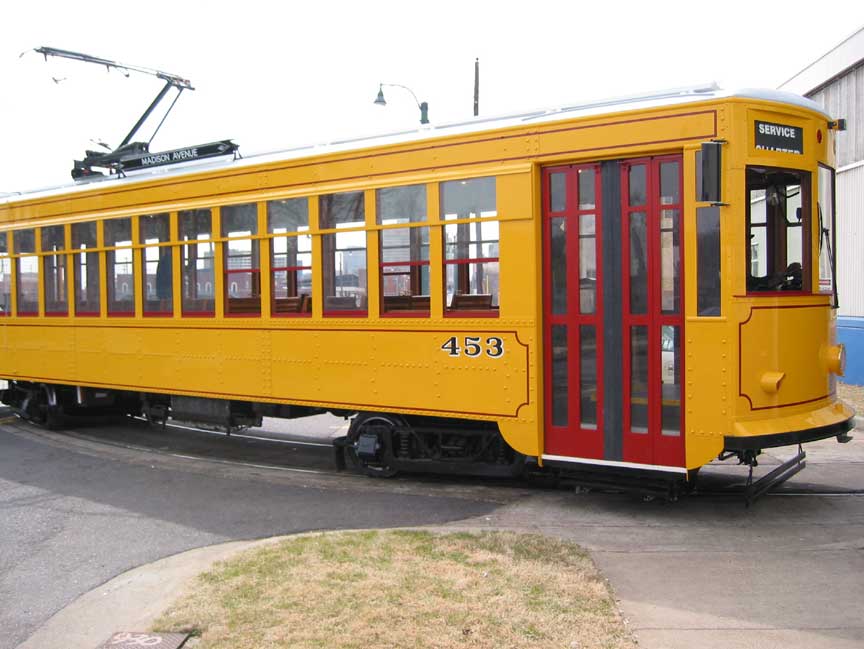 Replica Birney #453 will reach a top travel speed of 30 mph.