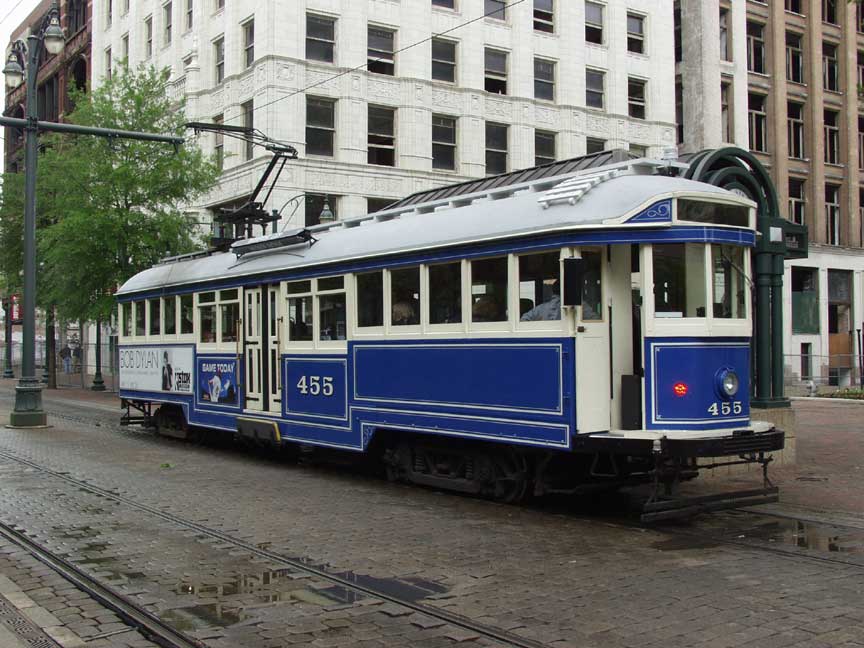 Reconditioning is a task Gomaco Trolley Company accomplishes with great pride. Our skilled craftsmen painstakingly restore old trolleys to their states of original glory.
In reconditioning the Melbourne trolleys, Gomaco Trolley Company lived up to its reputation of providing the quality craftsmanship for which the trolleys are remembered.
The majority of the roofs were replaced and covered with new canvas. All side panels and windows were removed and all deteriorated wood was replaced. Two narrow side entrances were changed into one wider entrance, which makes them handicapped accessible.
The trucks were completely disassembled and reconditioned. The tires on the truck wheels were replaced with new, wider tires that were heat-shrink fitted. All motors in the trucks were reconditioned.
All other electrical items such as controllers and compressors, were also completely reconditioned.
More than six thousand man hours were spent in the restoration of each Melbourne trolley.
Nine reconditioned Melbourne trolleys can be found running the rails for the Memphis Area Transit Authority (MATA) in Memphis, Tennessee.
Reconditioned Melbourne Trolley Specifications
Car Numbers: #243, #353, #545, #539, #553, #540, #452, #454, #455 - Memphis Area Transit Authority (MATA), Memphis, Tennessee.
Car Builder: Gomaco Trolley Company, Ida Grove, Iowa 51445.
Source of Running Equipment: Melbourne and Metropolitan Tramways Board.
Running Equipment: MV 101 motors, air brakes, and CP27 compressor.
Controls: General Electric K35 controllers.
Length: 48 feet.
Width: 9 feet.
Height: 11.6 feet.
Weight (approximate): 40,000 pounds.
Balanced Speed: 24 mph.
Seating: 48 to 52 sitting, 24 people standing (based on six people per square meter).
Total Crush Load: 76 (does not include operator).
Seats: Wood seats, alternating cherry and oak. Bench seats.
Frame: Reconditioned original Melbourne frame.
Windows: 14 per side.
Fittings, Solid Brass: New castings by Gomaco Trolley Company.
Woods: Oak, maple, and cherry.
Paint: Color and details are selected by customer.
Lights: 9 interior lights, incandescent bulbs.
Whistles: Three-tone air chime with WABCO valves on each end of the car.
Communication System: Operator PA system.
Steps: One oak step at each door location.
Side Doors: Air-operated side doors which fold in.
Brakes: Air-operated friction brakes.
Signal Bell: Brass, made by Gomaco Trolley Company. A floor pedal to operate on each end of the car.
Floor: Plywood floor with commercial transportation vinyl.
Ceiling: Painted or varnished birch with hand pin striping.
Roof: Laminated plywood with fiberglass covering, and painted canvas cover.

Floor plan for the reconditioned Melbourne trolleys.
Construction Of Memphis Trolleys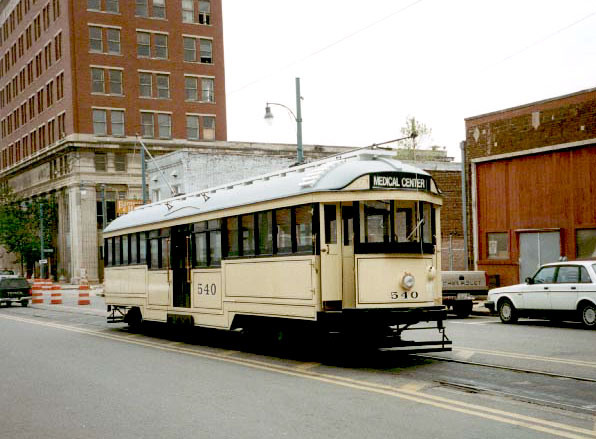 During reconditioning, two narrow side entrances on the Melbourne trolley were changed to one large, center entrance for handicapped accessibility.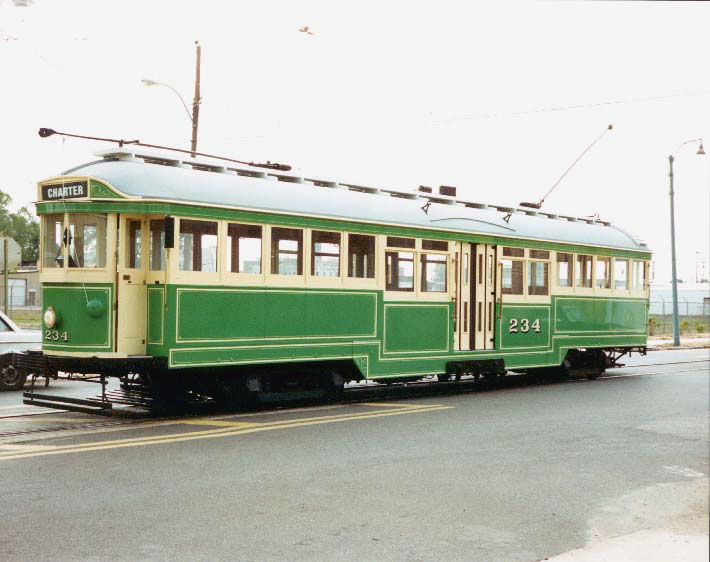 All side panels and windows were removed and replaced on each reconditioned Melbourne trolley.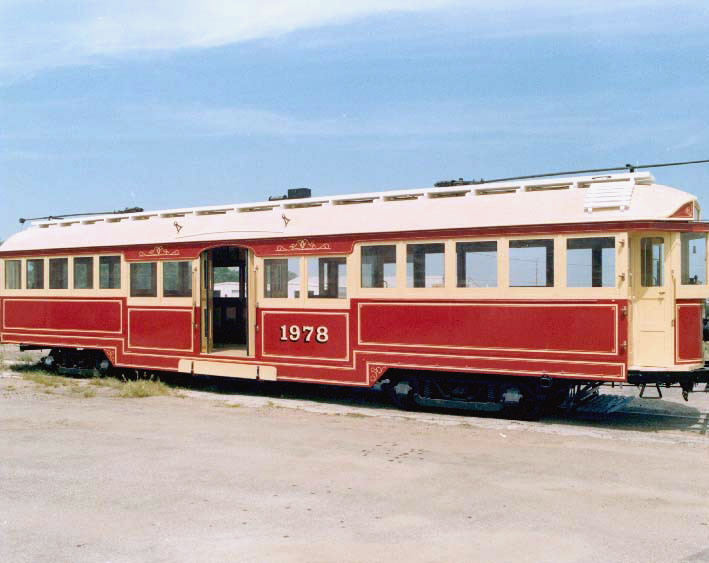 Gomaco's reconditioned and authentic reproduction trolleys are available in the colors of each customer's choosing.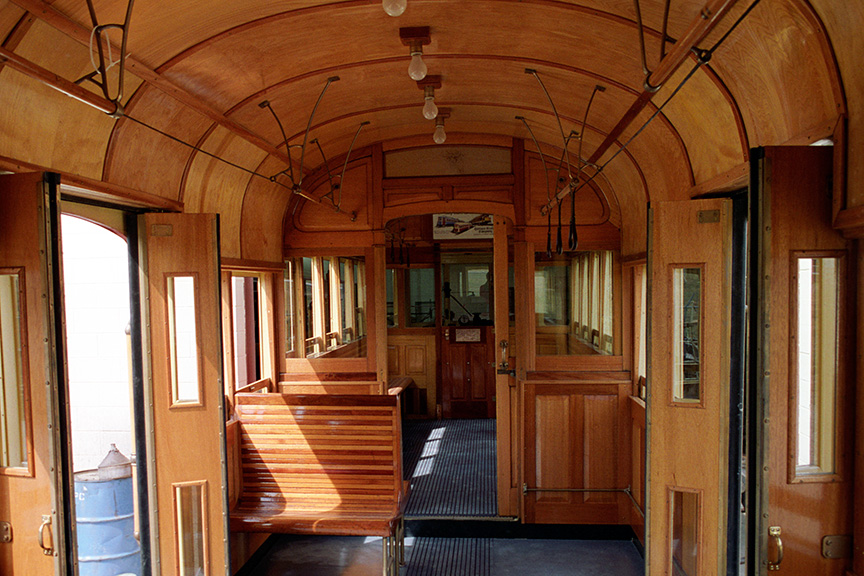 The ceiling in this reconditioned Melbourne trolley is varnished birch.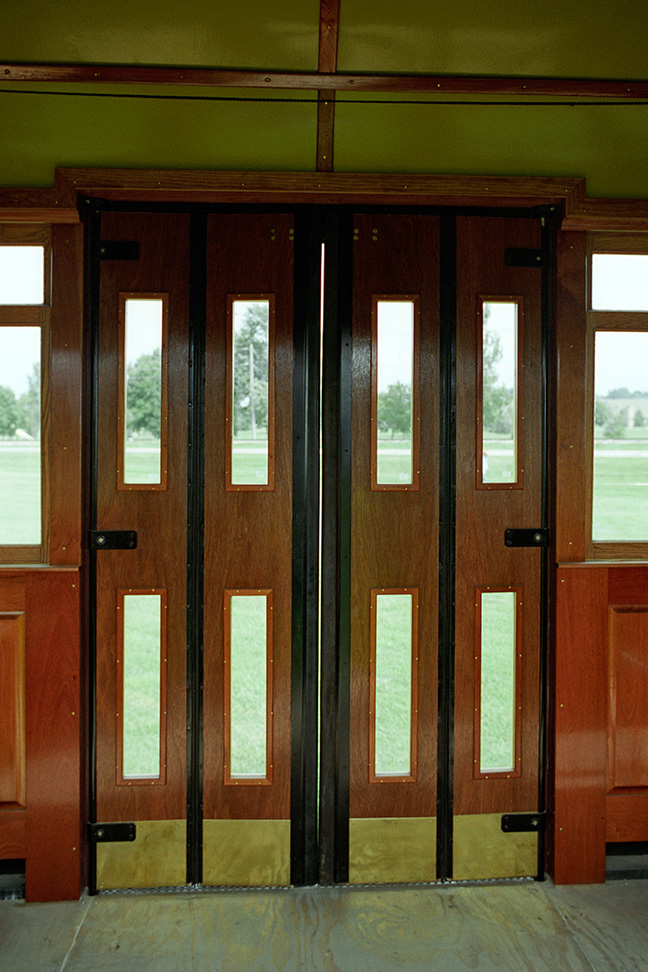 Reconditioned Melbourne trolleys have air-operated side doors which fold in.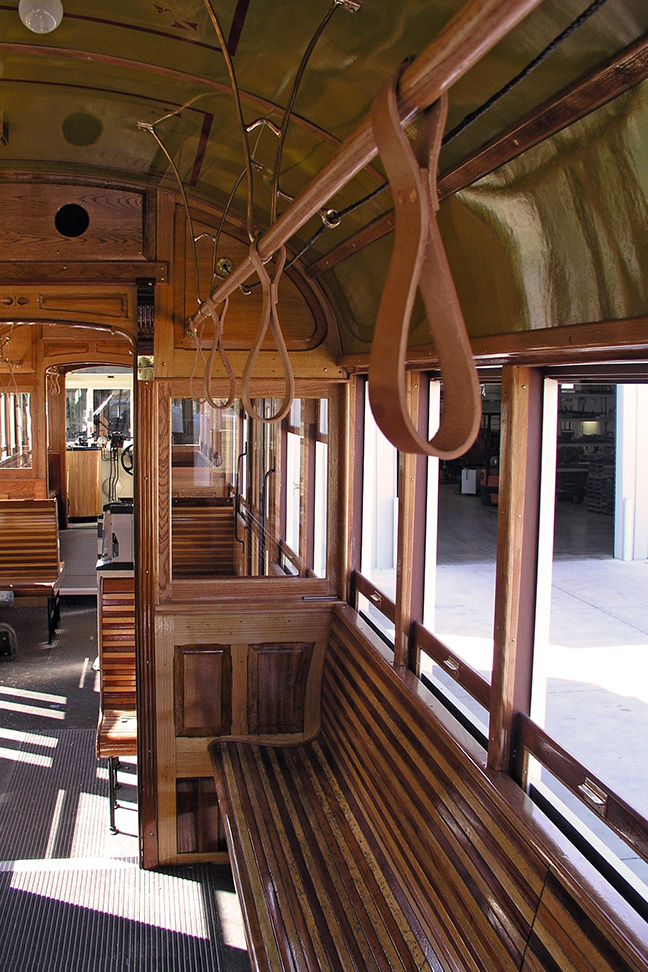 Gomaco Trolley Company personnel cast brass parts in the company's foundry, which are seen holding the handrail in this reconditioned Melbourne trolley.