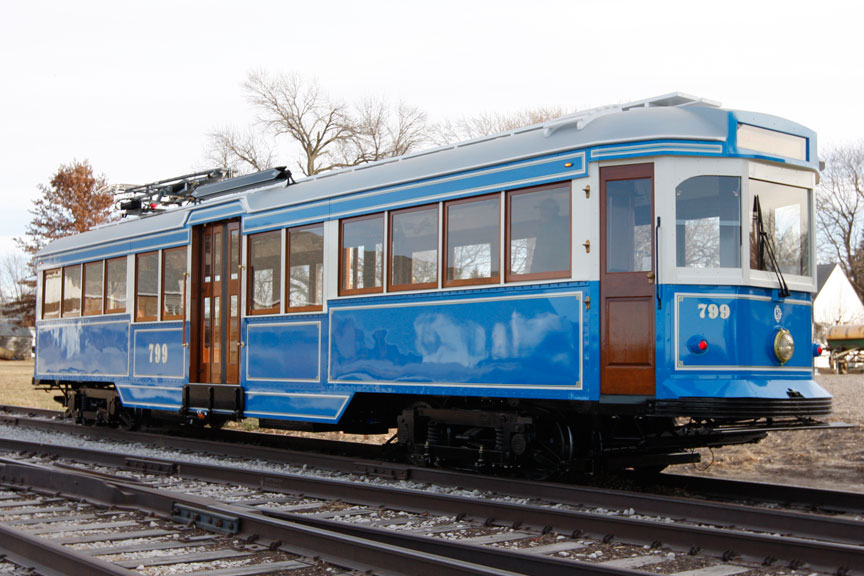 Introducing The Double E Hybrid Propulsion System - A Green Solution For Your Public Transportation System
The Double E system is dual powered with electric-over-electric, and Gomaco Trolley Company is introducing it on reconditioned Melbourne trolley #799. The trolley's power can be obtained from both the standard overhead power line or from the unique GTC battery-powered system.
Overhead power collection devices can be the traditional pole or pantograph. The GTC battery-powered system will charge itself while the trolley is running on the overhead line. The trolley can switch between power systems on-the-go with new "powered poles" for raising and lowering the overhead pole or pantograph. If it isn't possible to install overhead wire for your line, power stations under the track can be installed to remotely transfer energy from a ground source to the stationary car's power collection unit.
The new battery pack offers consistent performance. It performs at the highest level no matter how much charge is left in the battery. Even after extended use, there are no voltage sags that you would normally find when using lead acid batteries.
The Double E system was created to be easily maintained. Trolley operators can look at their console to check the amount of energy in the car's battery pack. Consumption is shown through a zero to 10 bar graph, with a 10 indicating a fully-charged battery pack. The battery pack can be charged and balanced during an "overnight" charge in as little as three hour's time.
The technology of the Double E system also allows a laptop computer to interact with the battery system. The laptop provides the ability to monitor the health of each cell of the batteries in the pack. A log can be created of the battery pack's status while the trolley is in operation. This information allows technicians to troubleshoot and monitor the overall health of the battery pack.
You now have three choices to power your Gomaco trolley:
• By Overhead Line

• By Double E Hybrid Propulsion System

• By A Self-Contained, Battery-Powered System
State-of-the-Art K35G Controller Is Standard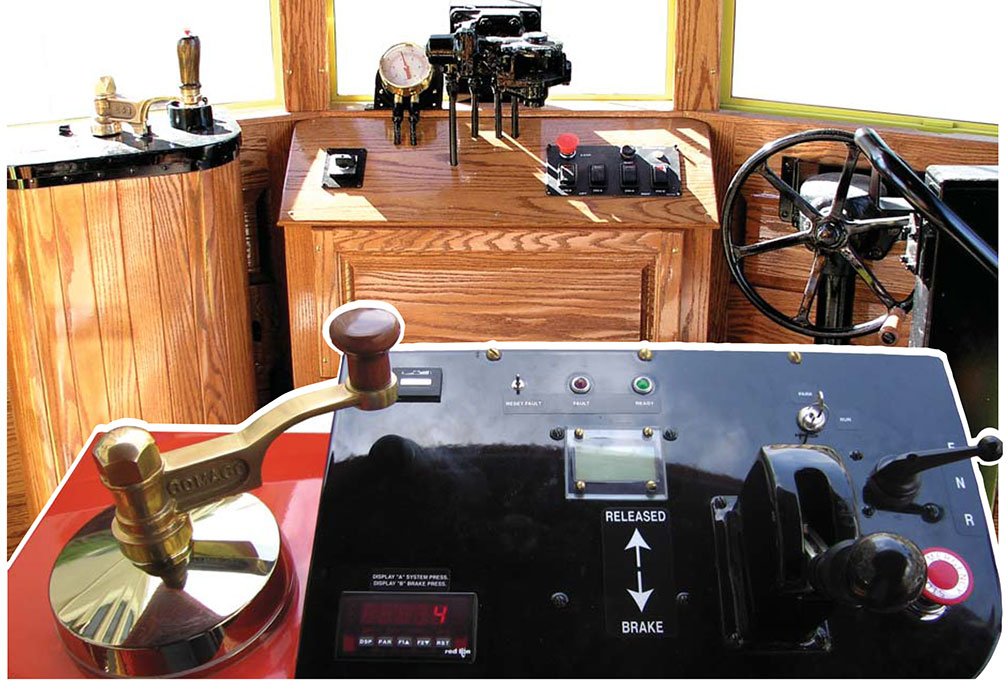 The trolley operator's station is where old-time craftsmanship and the latest technology available merge together to create a station for the operator that is both easy and safe to operate. First of all, the station has been designed for excellent visibility inside and out of the trolley, while keeping all of the operating controls within easy reach for the operator. Gomaco trolleys can be equipped with a K35G IGBT (insulated gate bipolar transistor) controller and PLC (programmable logic controller) system management to control speed and monitor power consumption. It allows the cars to travel at any speed between zero to 35 miles per hour and it will maintain any speed for an indefinite amount of time. For example, if you want to creep the trolley car at 0.5 miles per hour along the entire route, it's possible with the K35G. It includes a system diagnostics recording that can be used for troubleshooting analysis and documentation. And, with its GPS compatibility, the car location and speed can be tracked from rider kiosks or for dispatcher's monitoring.
The braking system features an air-applied, pneumatic brake system with composite shoes and a 24-volt hydraulic brake pump. The battery-powered trolleys capture their regenerative energy for recharging its own batteries. Electromagnetic rail brakes are an added safety feature to allow emergency stops. Emergency stop buttons are located at different points. Also, for added safety, there is full, dead-man integration at both operator locations, so if for any reason the operator becomes incapacitated, the car automatically stops.
Reconditioned Melbourne Trolley #799
In reconditioning this Melbourne trolley, Gomaco Trolley Company lived up to its reputation of providing the quality craftsmanship for which the trolleys are remembered.
The roof was replaced and covered with a fiberglass shell. Car #799 has a special texture and paint feature to look like a canvas top, but it does not have any canvas. All side panels and windows were removed and all deteriorated wood was replaced. All three narrow side entrances were removed and one wider entrance was installed, making #799 handicapped accessible.
The trucks were completely disassembled and reconditioned. The tires on the trucks were replaced with new, wider tires that are heat-shrink fitted. The motors from the trucks were reconditioned.
All electrical items such as controllers, compressors, line breakers, and air governors were completely reconditioned.
More than six thousand man-hours were spent in the restoration of this Melbourne trolley.
Hybrid Reconditioned Melbourne Trolley Specifications
Car Number: #799.
Car Builder: Gomaco Trolley Company, Ida Grove, Iowa 51445.
Source of Running Equipment: Gomaco Trolley Company design, patterned after Peter Witt-style trucks from Milan, Italy.
Running Equipment: 30 HP General Electric traction motors. 650 volts, air/friction brakes. CP25 compressor.
Controls: K35G proprietary Gomaco controller, with Double E hybrid propulsion system.
Power: Dual-power usage with an electrical motorized pantograph, or battery power with lithium-ion batteries. The batteries can be charged by running on overhead line through the pantograph on the top of the car roof, or by charging.
Battery: 60 rechargeable lithium-ion batteries under the center of the car. They can run the car at speeds up to 24 mph for up to 10 hours.
Length: 48 feet.
Width: 9 feet.
Height: 11.6 feet.
Weight: 46,500 pounds.
Balanced Speed: 25 mph.
Seating: 48 to 52 sitting, 24 people standing (based on six people per square meter).
Total Crush Load: 76 (does not include operator).
Seats: Fixed longitudinal bench seats. Alternating oak and cherry wood.
Frame: Reconditioned original Melbourne frame.
Windows: 12 per side.
Fittings, Solid Brass :
Window lifts.
Grab strap hanger brackets.
Brackets for grab handles.

Woods: Birch, oak, and cherry.
Paint: Blue metallic paint with cream trim. Color and details are selected by customer.
Lights: 9 interior incandescent LED bulbs. LED strip lights down interior of the car.
Whistles: Three-tone air chime with WABCO valves. Constructed by Gomaco Trolley Company.
Communications System: Exterior LED scrolling destination sign on each end. Conductor PA system.
E-Stops: Red emergency stop button located in each operator station, and beside each handicapped seating area.
Steps: Painted white oak steps on each side. Flip down for entry into the center of the car.
Side Doors: Air-operated side doors which fold in.
Brakes:
Hand-activated emergency brakes.
Electronic-over-hydraulic disc brakes on each axle.
Signal Bell: Brass, made by Gomaco Trolley Company. A floor pedal to operate on each end of the car.
Floor: Transit flooring, simulated cherry wood.
Ceiling: Birch plywood. Painted and hand pin striped.
Roof: Laminated plywood with fiberglass covering, and painted canvas cover.

Floor plan for the hybrid Melbourne trolley.
Construction Of Hybrid Trolley #799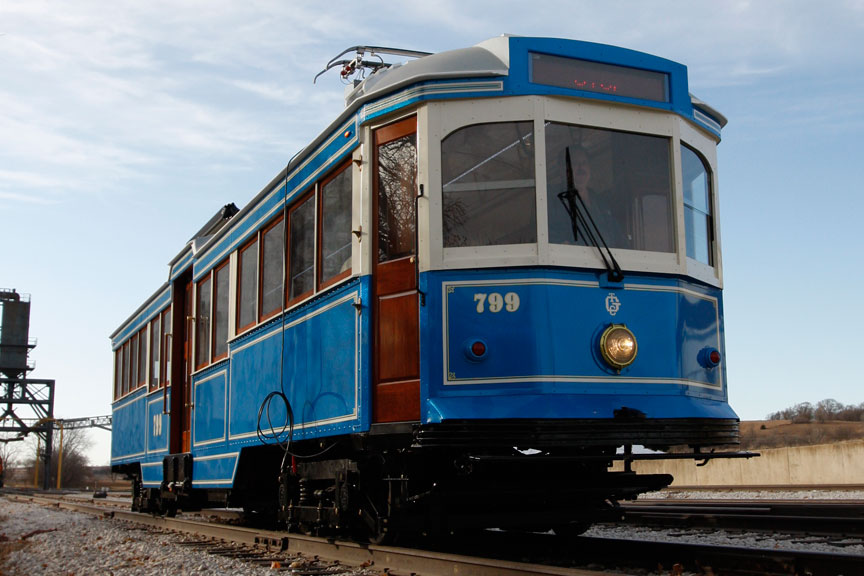 Gomaco trolley #799 operates on the GTC battery-powered system on the rails of Ida Grove, Iowa. A scrolling LED destination sign is located on each end of the trolley.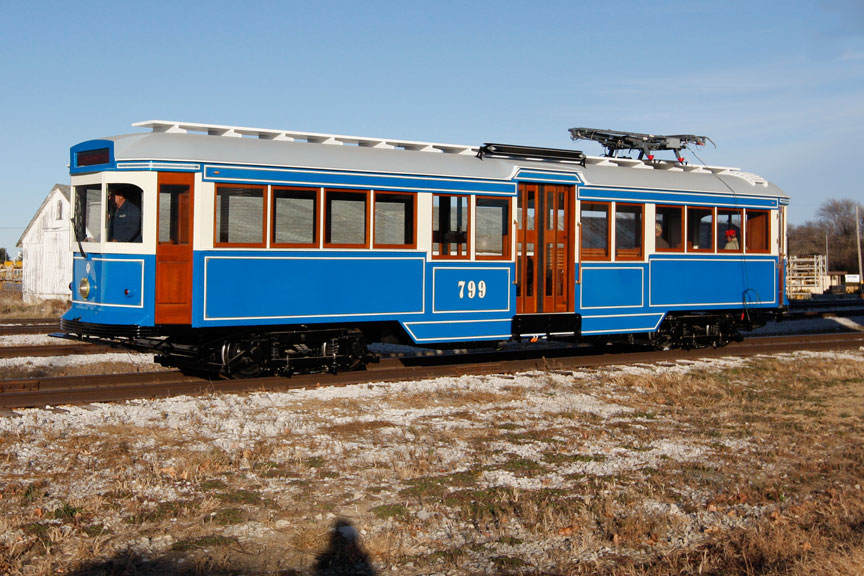 This reconditioned Melbourne trolley has 12 windows on each side.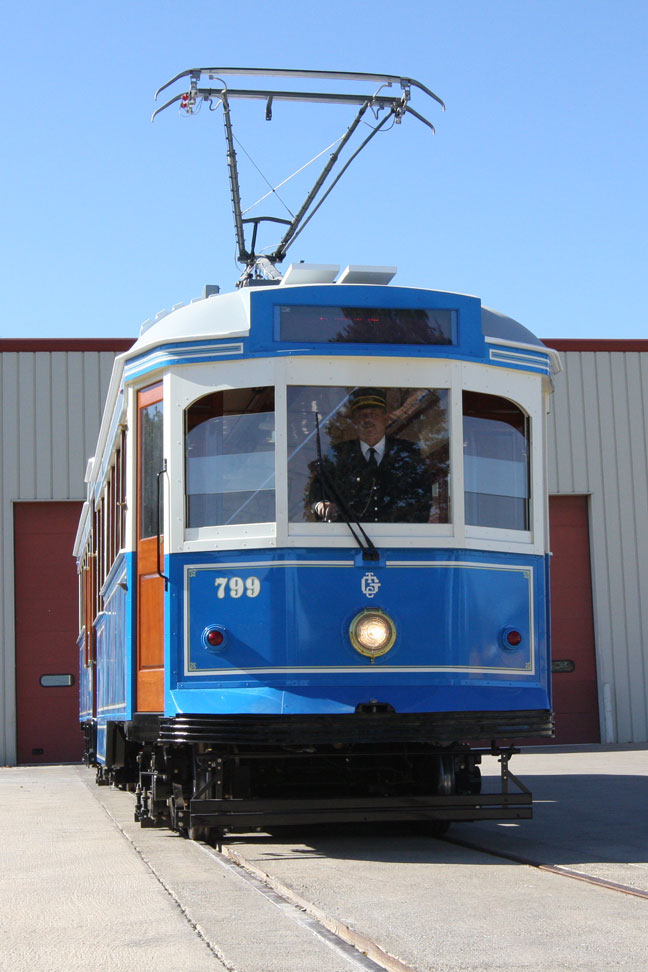 The electrical motorized pantograph raises and lowers to allow the trolley to operate on overhead lines.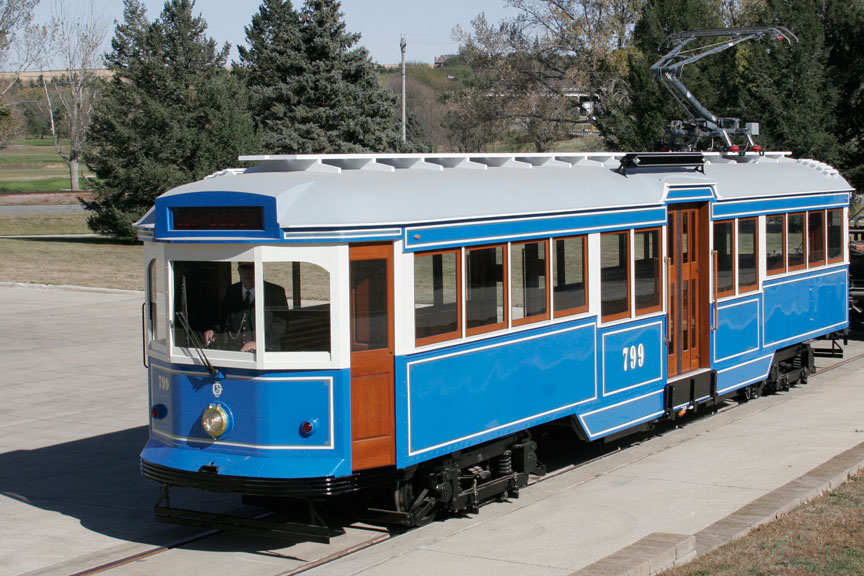 The roof is made of laminated plywood with a fiberglass covering, and it is painted to resemble canvas.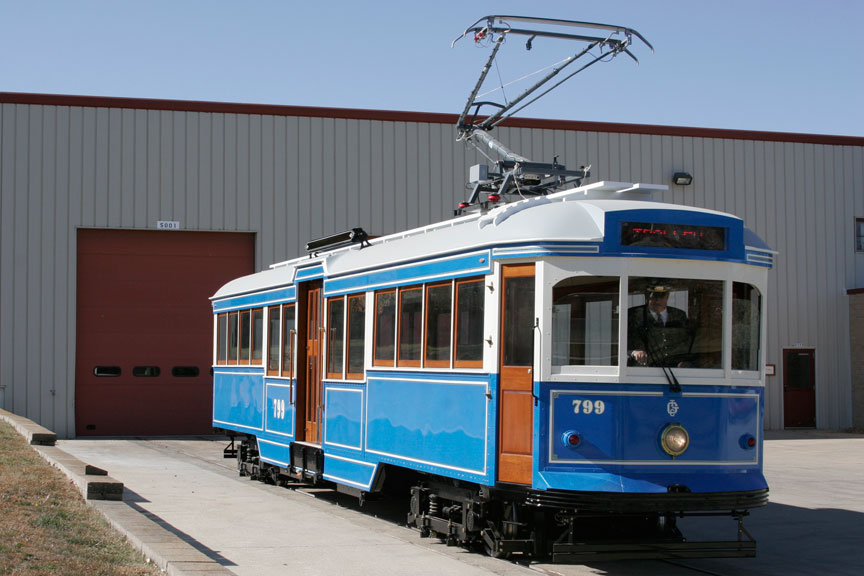 The wide entrance at the center of Melbourne trolley #799 allows it to be handicapped accessible.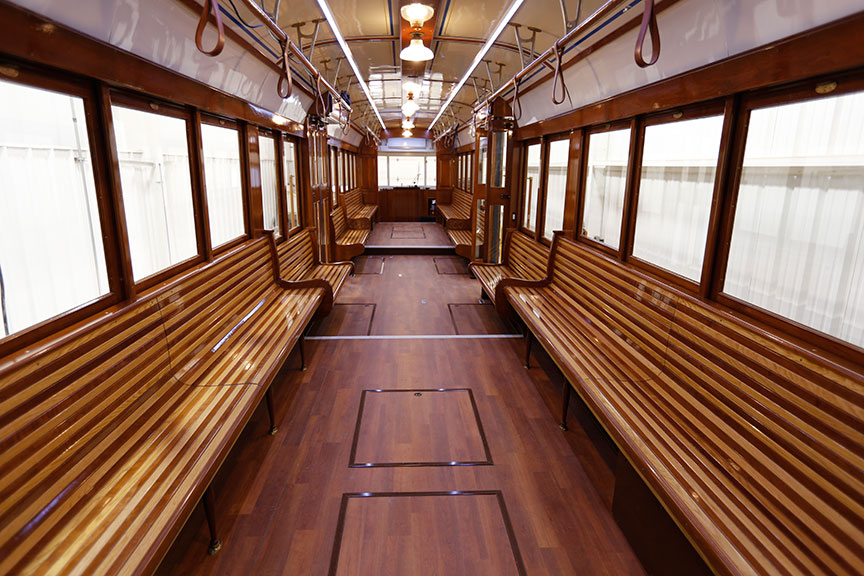 This Melbourne has a wide-open floor plan, with benches spanning both sides.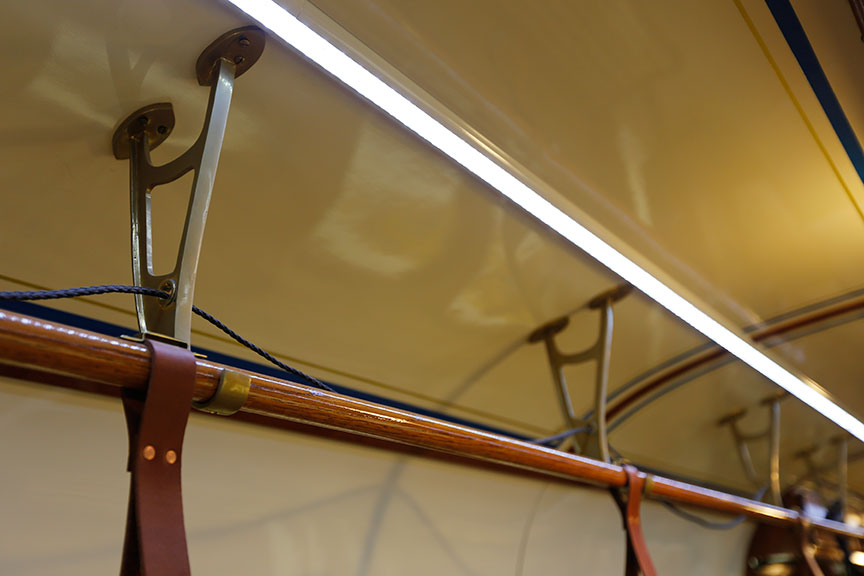 Gomaco Trolley Company personnel create new brass castings for their trolleys.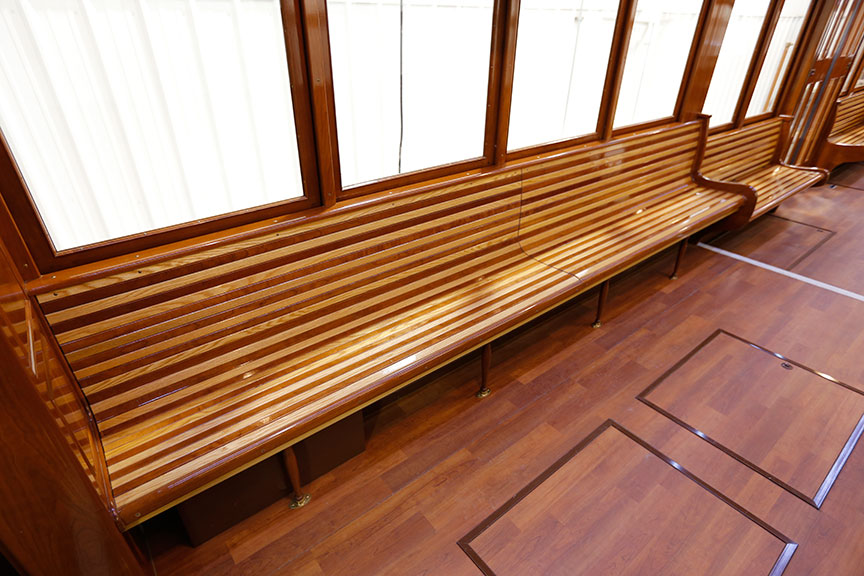 The fixed longitudinal benches are made with alternating oak and cherry wood.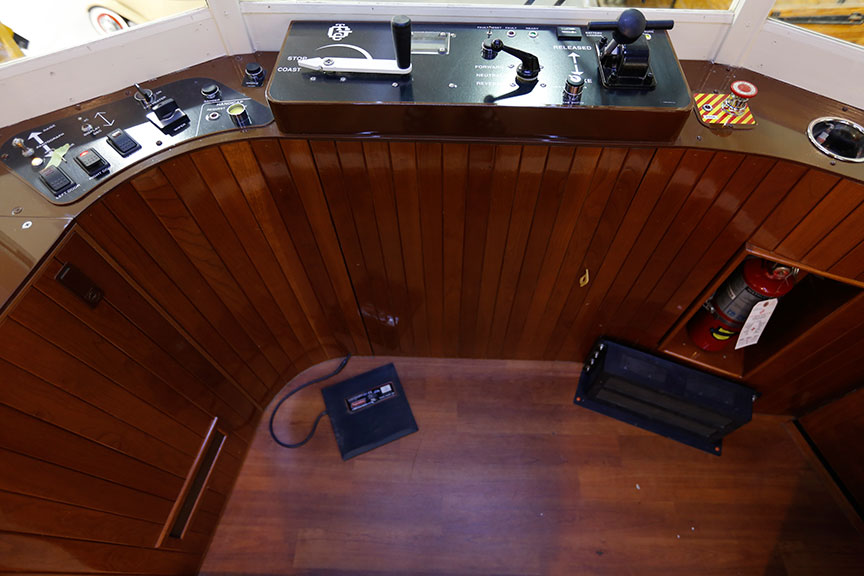 Hybrid Melbourne #799 trolley has the Double E Hybrid Propulsion System, which allows it to obtain power from the standard overhead power line or from the unique GTC battery-powered system.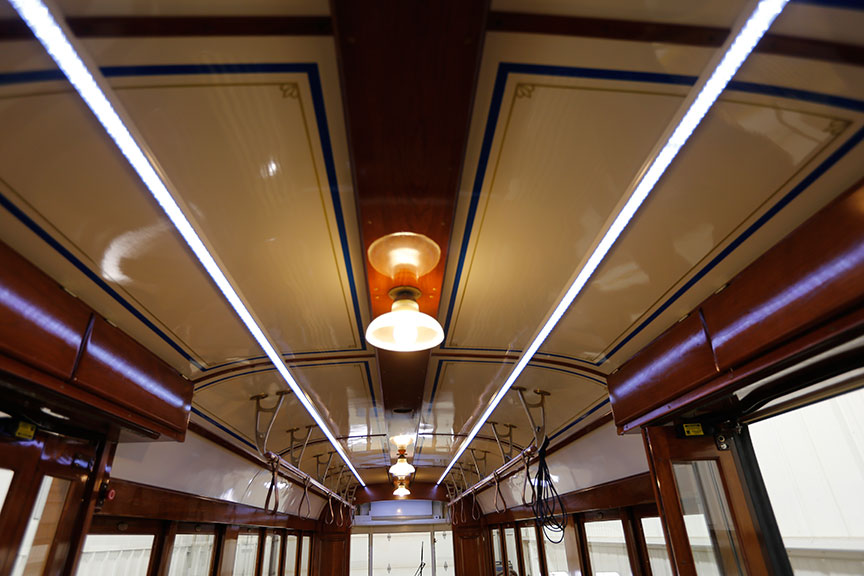 The ceiling is constructed of birch plywood, and was painted and hand pin striped. There are nine LED incandescent bulbs and two LED light strips down the interior of the car.