Grand Opening - Glendale, California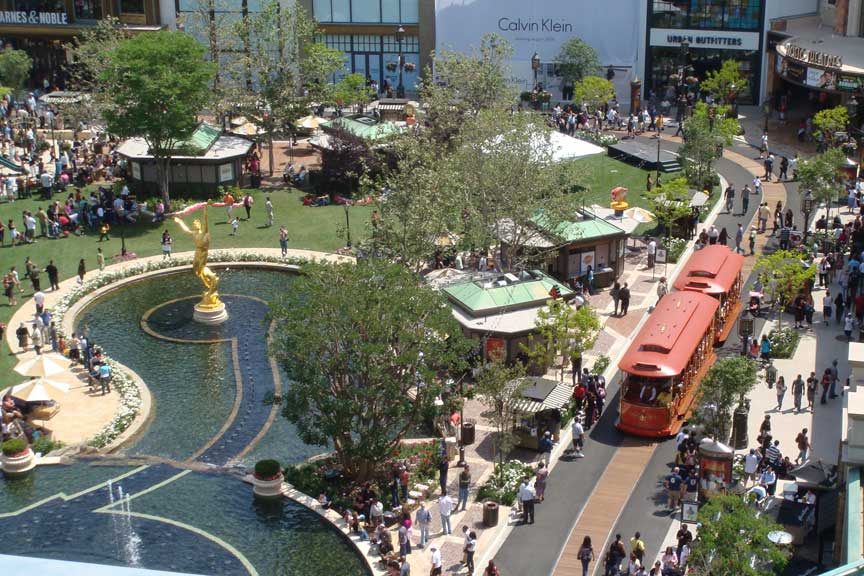 The "Americana At Brand" complex in Glendale, California, is a project by mega-developer Rick Caruso. The 15.5 acre facility contains 100 condominiums, 238 apartments, and more than 74 unique shops and fashion boutiques, along with casual and fine dining. Gomaco Trolley Company constructed two open-style trolleys, #1717 and trailing car GiGi, for use in the complex.
Some visual highlights of the area, along with the Gomaco trolleys, include a gathering spot called "The Green" with a children's play area, an animated fountain, and a lush landscape. There are also two patriotic sculptures located in "The Green." First is "The Spirit Of American Youth," an 18-foot statue covered in 23-carat gold that is an exact replica of one that stands at the Omaha Beach Memorial in Normandy, France. A second statue, called "America," sits on top of a dome overlooking "The Green." There is also a 12-foot crystal chandelier suspended across one of the avenues.
The grand opening events kicked-off with a black tie affair on Thursday evening, May 1, 2008, for the individuals who played a part in building the project. Emceeing the evening was Jay Leno of The Tonight Show, and there were musical performances by American icons Tony Bennett, Natalie Cole, The Four Tops and The Temptations. Catering the dinner was star chef Wolfgang Puck. The public unveiling of the facilities on May 2 included speeches, and the ceremonial riding of the trolley by city dignitaries and developer Rick Caruso. The trolleys first broke through a red ribbon to symbolize the ushering in of a new era for Glendale, and then were followed by the USC marching band as they circled the complex.
Gomaco Trolley Company began constructing two open-style trolley cars for the "Americana At Brand" project in Glendale, California, in fall 2007. They are a similar style to the J.G. Brill open-style cars currently in Lowell Massachusetts, and Tampa, Florida. The first car, #1717, is 33 feet long and battery-powered, and the unpowered second car, GiGi, is 22 feet long and pulled behind the first car. Both cars were completed and delivered in April 2008. The grand opening for the "Americana At Brand" project was May 1-2, 2008.
Battery-Powered, Self-Propelled 7-Bench Trolley