Grand Opening - Kaohsiung, Taiwan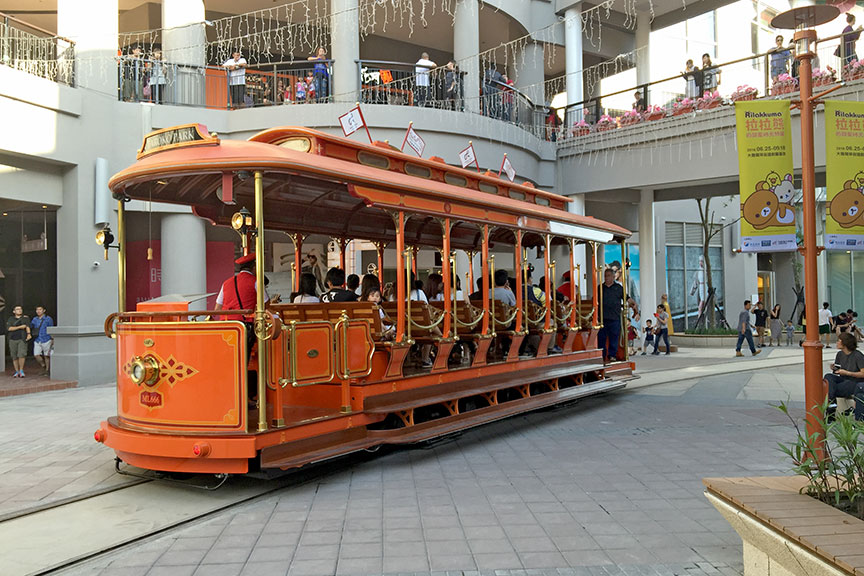 Battery-powered trolley car #ML666 had its debut at the Grand Opening of Taroko Park in Kaohsiung, Taiwan, on May 9, 2016. The event included a ribbon cutting ceremony with dignitaries, festivities, tours of the park's major attractions, and rides on the trolley.
Trolley #ML666 transports visitors from Fountain Park to the Suzuka Circuit Park. The car has 60 rechargeable batteries, telematic capabilities for remote troubleshooting, DP-600 displays at both operator's stations in English and Chinese, four recording on-board security cameras, solid brass castings, flags mounted to the roof, two stationary bench seats and five rollover bench seats, polished hardwoods, and a wheelchair lift.
Taroko Park is Taiwan's first hybrid of a shopping center and sports-themed amusement park, and is the largest shopping center in the country. It contains more than 220 retailers. Taroko Park has the only authorized Suzuka Circuit Park racetrack outside of Japan, and visitors can race through figure eight pathways in go-karts. The park also has Taiwan's largest carousel, which can carry up to 88 persons, and a Ferris wheel. The three-story mall also contains a miniature golf course, two full-sized basketball courts, a running track, a bowling center, and a trampoline.
In late 2014, Gomaco Trolley Company started constructing a battery-powered, open-style trolley for Taroko Park in Kaohsiung, Taiwan. Trolley #ML666 was delivered in fall 2015, and the park's grand opening was May 9, 2016.
Battery-Powered Trolley (Taiwan)