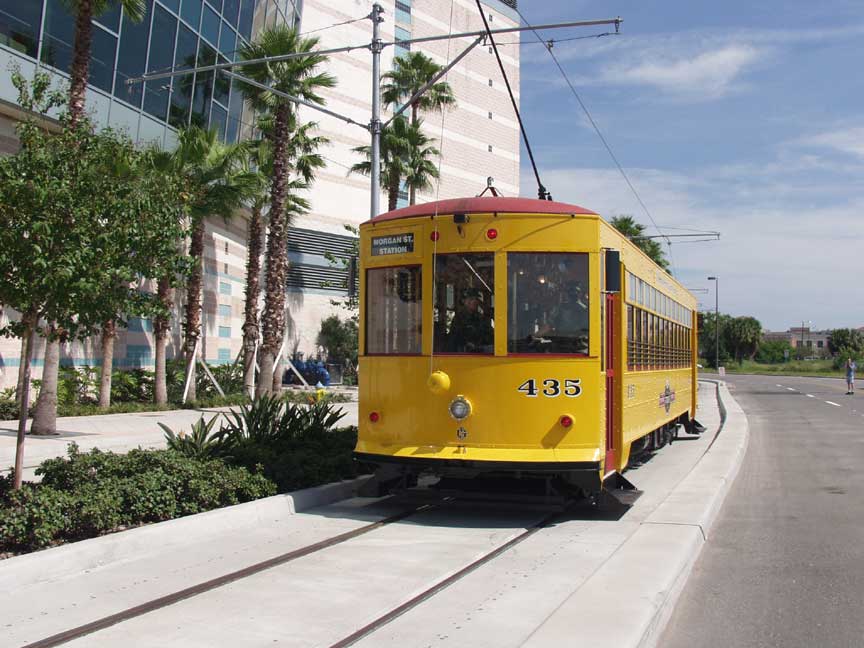 Gomaco Trolley Company built Tampa's Birneys based on a design created by the city of Tampa. The new cars resemble the double-truck Birney Safety trolleys that ran the city's rail system between 1920 and 1946. The last original Birney to run was #427.
According to the TECO Line's web site... "In their heyday, Tampa's streetcars whisked passengers to and from Ybor City, Ballast Point, Hyde Park, Sulphur Springs and points beyond. Operated by uniformed conductors, the Birney cars were a welcome sight, and the familiar clang of the streetcar bell was music to the ears. To ride the streetcar was to feel the pulse of the community..."
The trolley bell's familiar clang was heard again in Tampa in 2000, ending an over 50 year silence in the city when the Gomaco replica Birney trolley #428 was put into service. There are currently nine of Gomaco's Birney trolleys running along Tampa's streetcar system.
HARTLine Edition Tampa, Florida – Nine Cars
Hillsborough Area Regional Transit's (HART) TECO Line Streetcar System Replica Birney Trolley Specifications
Car Numbers: #428 - #436.
Car Builder: Gomaco Trolley Company, Ida Grove, Iowa 51445.
Source of Running Equipment: Peter Witt-style trucks from Milan, Italy.
Running Equipment: 30 HP General Electric traction motors. 650 volts, air/friction brakes. CP25 compressor.
Controls: K35 contact controller.
Length: 49.75 feet.
Width: 10 feet.
Height: 13.2 feet.
Weight (approximate): 46,400 pounds.
Balanced Speed: 30 mph.
Seating: 48 sitting, 53 standing (based on six people per square meter).
Total Crush Load: 101 people (does not include the operator).
Seats: Alternating oak and cherry. 16 rollover, bi-directional transverse benches. Four fixed longitudinal benches.
Frame: New steel construction developed by Gomaco Trolley Company.
Windows: 13 per side.
Fittings, Solid Brass: New castings by Gomaco Trolley Company.
Woods: Oak, cherry, birch, and plywood.
Paint: Gold and red. Color and details are selected by customer.
Whistles: Three-tone air chime with WABCO valves. Constructed by Gomaco Trolley Company.
Air Conditioners: 11 tons of air conditioning capacity & 10 kilowatt heat.
Communication System: Conductor PA system.
E-Stops: Red emergency stop button located in each operator station.
Signal Bell: Brass, made by Gomaco Trolley Company.
Brakes: Pneumatic friction brakes with composite shoes and regenerative motor braking. Manual friction parking brake.
Floor: Transit flooring.
Ceiling: Birch. Custom pin stripe. Integrated duct work for air conditioning.
Roof: Plywood construction with fiberglass shell and canvas cover.

The interior design layout for the Hillsborough Area Regional Transit TECO Line Streetcar system replica Birneys.
Construction Of Tampa Trolleys
(Replica Birneys 1999-2002)
Construction of Tampa Trolleys
(Replica Birneys 2004-2005)
Grand Opening (October 19-20, 2002)
Replica Birney Trolley PDF Brochure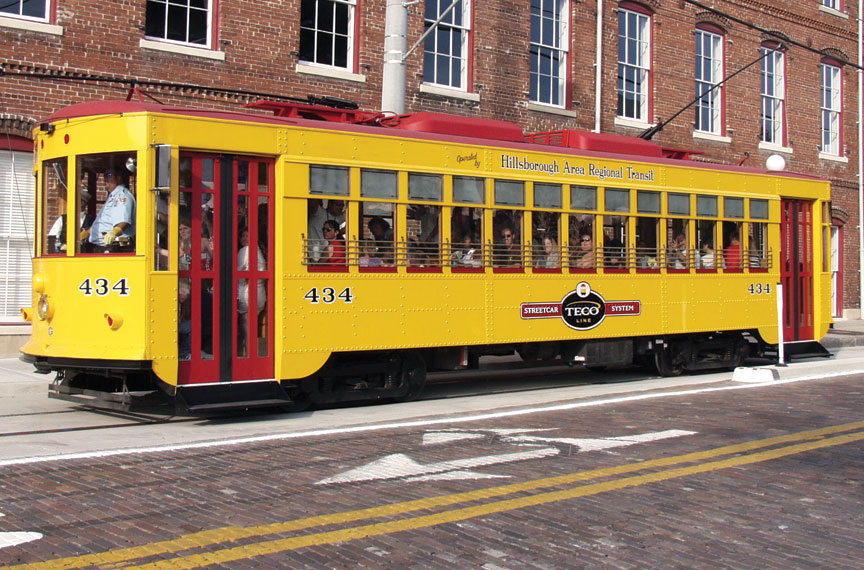 Tampa celebrated its trolley line grand opening in 2002.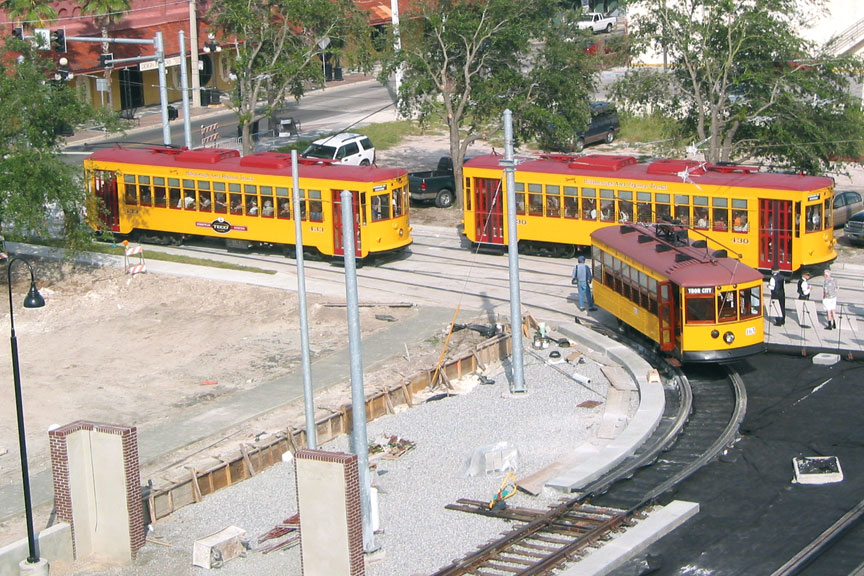 Replica Birney trolleys leave their barn and start their day carrying passengers in Tampa.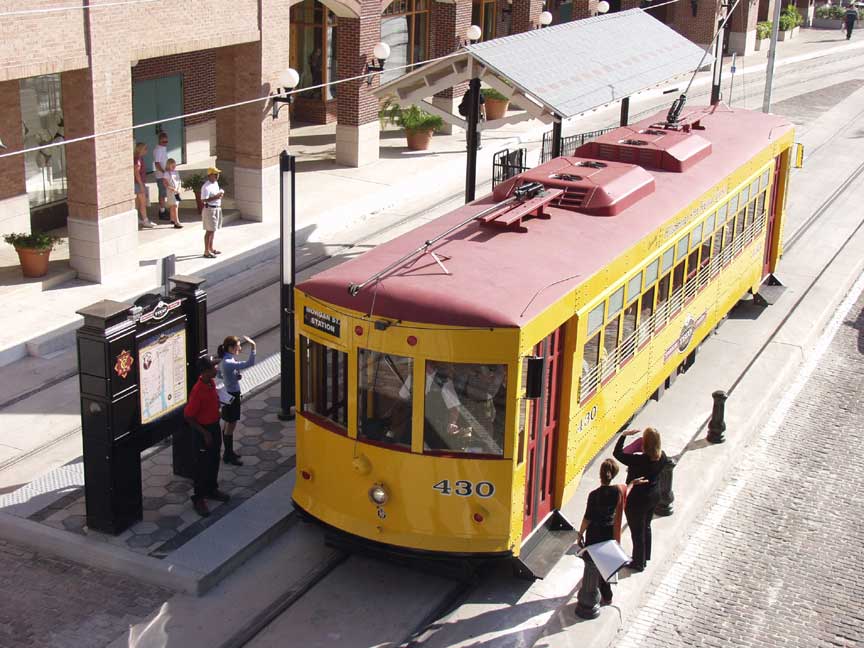 The replica Birney trolleys were the first Gomaco cars to have air conditioning systems.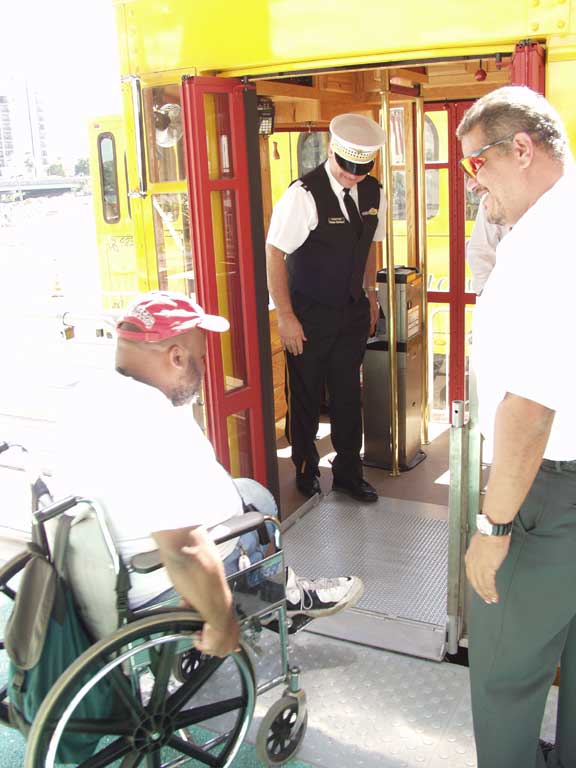 A trolley enthusiast boards a Birney trolley during Tampa's grand opening day.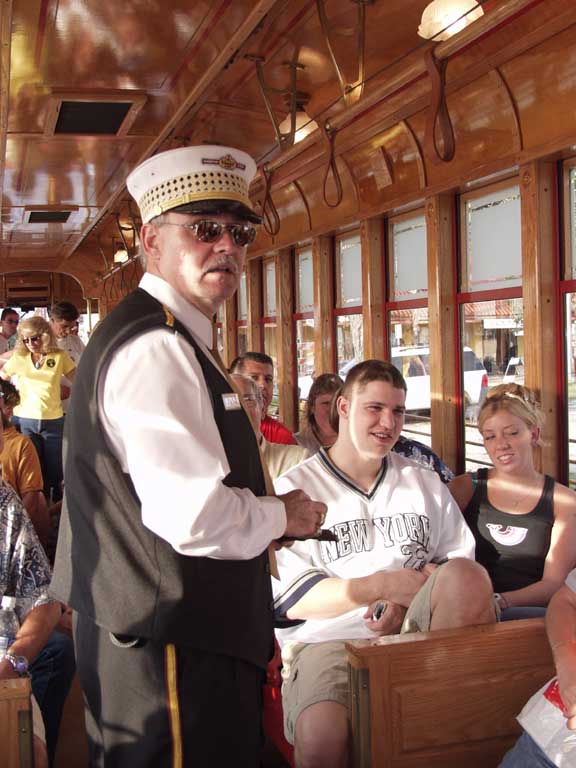 The trolley conductors often dress in period costumes while transporting guests throughout Tampa's Ybor City and the nearby areas.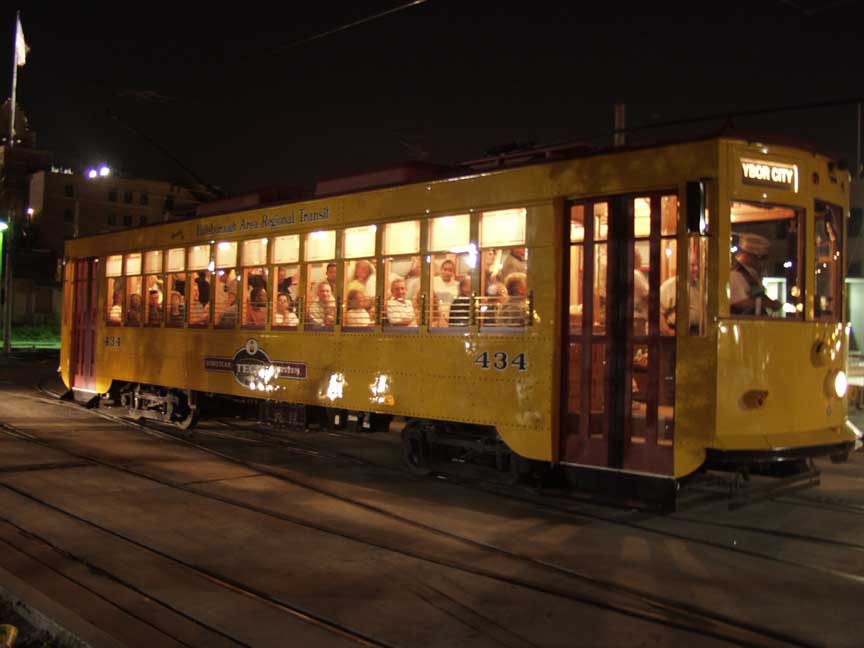 Each trolley holds 48 sitting passengers, and 53 standing.