Grand Opening - Tampa, Florida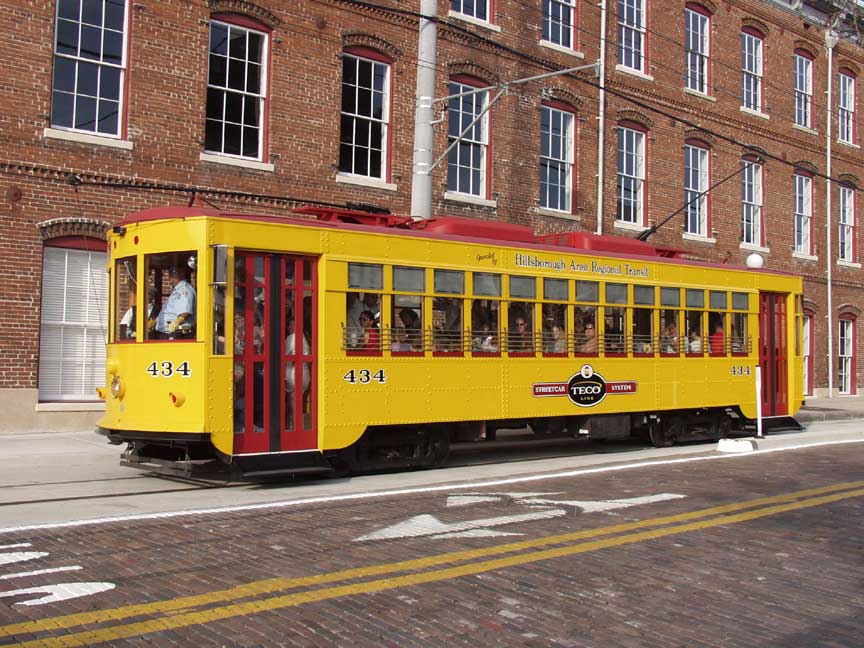 HARTLine in Tampa, Florida, had its grand opening for the TECO Streetcar line the weekend of October 19 and 20, 2002, which was an overwhelming success! More than 20,000 eager trolley fans were given rides through the YBOR historic district in Tampa on eight replica Birney trolleys, numbered #428 through #435, which were manufactured by Gomaco Trolley Company. Trolley #436 would be constructed in 2004 and delivered the next year.
The opening weekend included a ceremony with area dignitaries, a parade featuring the trolleys, and free rides for the guests.
HARTline of Tampa, Florida, has nine replica Birney trolleys from Gomaco Trolley Company running the rails of the historic district. The first eight trolleys, #428, #429, #430, #431, #432, #433, #434 and #435, were delivered in 2000-2001. Trolley #436 was constructed in 2004-2005.
Replica Birney Trolley (Tampa)
Trolley fans from far and wide were decked-out in period attire for the celebration and a Dixieland band warmed up the audience for the grand opening ceremony. Tampa's original Birney trolley car #163 was on display throughout the weekend (above, right).
Tampa and Florida dignitaries greeted visitors and addressed the crowds at a ceremony officially opening the TECO Streetcar line through the YBOR historic district.
Following the official opening ceremony, the Birney trolleys paraded one after another down the TECO Streetcar line, with the lead trolley breaking through a banner at each trolley station.
After the official opening of the trolley line and the parade of trolleys, visitors were treated to free rides on the 2.3 mile line throughout the YBOR historic district of Tampa.
Experience The Glendale, California, Grand Opening (May 1-2, 2008)