Welcome to Gomaco Trolley Company
Gomaco Trolley Company, located in Ida Grove, Iowa, USA, is a manufacturer of authentic vintage trolley cars that match the precision and quality craftsmanship of yesterday while incorporating the state-of-the-art technology of today. Gomaco can provide you with trolley manufacturing and engineering consultation on restoration or renovation of existing trolley cars, or in the manufacturing of new trolley cars.
Projects Under Construction At Gomaco Trolley Company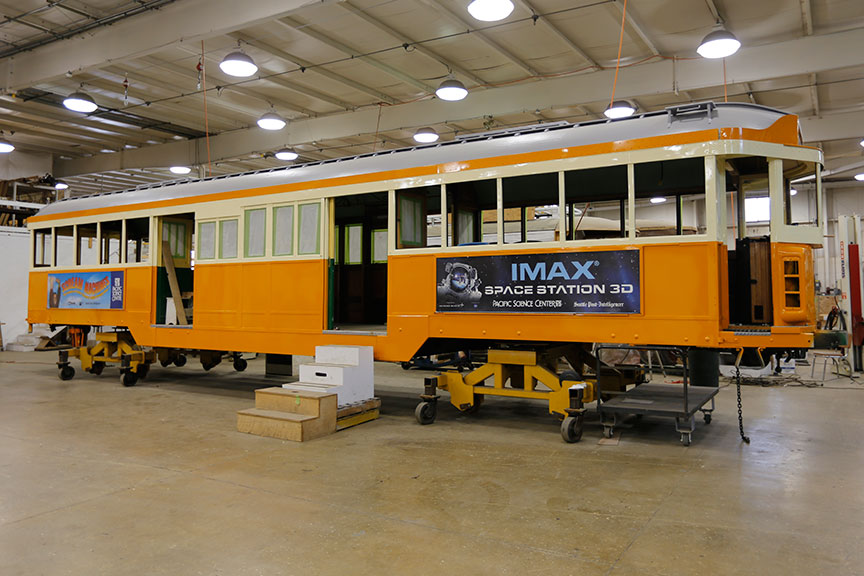 Gomaco Trolley Company is currently reconditioning one Melbourne trolley for the St. Louis Loop Trolley Transportation Development District (seen to the right), and reconditioning three replica Council Crest trolley cars for the City Council of Galveston.
Recently Completed Projects:
- Council Crest trolleys #001 and #002 were reconditioned for the St. Louis Loop Trolley Transportation Development Project.
- Battery-powered trolley #ML666 was completed and transported to Taroko Park in Kaohsiung, Taiwan.
Introducing The Double E Hybrid Propulsion System
- A Green Solution For Your Public Transportation System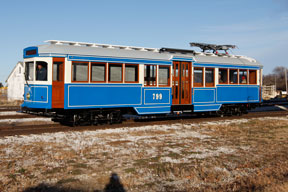 The Double E system is dual powered with electric-over-electric, and Gomaco Trolley Company is introducing it on reconditioned Melbourne trolley #799. The trolley's power can be obtained from both the standard overhead power line or from the unique GTC battery-powered system.
-- Click here to read more about hybrid Melbourne #799 --
Overhead power collection devices can be the traditional pole or pantograph. The GTC battery-powered system will charge itself while the trolley is running on the overhead line. The trolley can switch between power systems on-the-go with new "powered poles" for raising and lowering the overhead pole or pantograph. If it isn't possible to install overhead wire for your line, power stations under the track can be installed to remotely transfer energy from a ground source to the stationary car's power collection unit.
The new battery pack offers consistent performance. It performs at the highest level no matter how much charge is left in the battery. Even after extended use, there are no voltage sags that you would normally find when using lead acid batteries.
The Double E system was created to be easily maintained. Trolley operators can look at their console to check the amount of energy in the car's battery pack. Consumption is shown through a zero to 10 bar graph, with a 10 indicating a fully-charged battery pack. The battery pack can be charged and balanced during an "overnight" charge in as little as three hour's time.
The technology of the Double E system also allows a laptop computer to interact with the battery system. The laptop provides the ability to monitor the health of each cell of the batteries in the pack. A log can be created of the battery pack's status while the trolley is in operation. This information allows technicians to troubleshoot and monitor the overall health of the battery pack.
You now have three choices to power your Gomaco trolley:
• By Overhead Line

• By Double E Hybrid Propulsion System

• By A Self-Contained, Battery-Powered System
State-of-the-Art K35G Controller Is Standard
The trolley operator's station is where old-time craftsmanship and the latest technology available merge together to create a station for the operator that is both easy and safe to operate. First of all, the station has been designed for excellent visibility inside and out of the trolley, while keeping all of the operating controls within easy reach for the operator. Gomaco trolleys can be equipped with a K35G IGBT (insulated gate bipolar transistor) controller and PLC (programmable logic controller) system management to control speed and monitor power consumption. It allows the cars to travel at any speed between zero to 35 miles per hour and it will maintain any speed for an indefinite amount of time. For example, if you want to creep the trolley car at 0.5 miles per hour along the entire route, it's possible with the K35G. It includes a system diagnostics recording that can be used for troubleshooting analysis and documentation. And, with its GPS compatibility, the car location and speed can be tracked from rider kiosks or for dispatcher's monitoring.
The braking system features an air-applied, pneumatic brake system with composite shoes and a 24-volt hydraulic brake pump. The battery-powered trolleys capture their regenerative energy for recharging its own batteries. Electromagnetic rail brakes are an added safety feature to allow emergency stops. Emergency stop buttons are located at different points. Also, for added safety, there is full, dead-man integration at both operator locations, so if for any reason the operator becomes incapacitated, the car automatically stops.
Video Presentation - "Step Back In Time" With Gomaco Trolley Company
This video profiles two of the first trolley projects: Lowell, Massachusetts, from 1982 through 1984; and Portland, Oregon, from 1990 to 1992. It was produced in 1993, and includes footage of their construction, and running the rails after completion.
Click the video below, and enjoy your ride on a Gomaco Trolley.
Debut Events For Gomaco Trolleys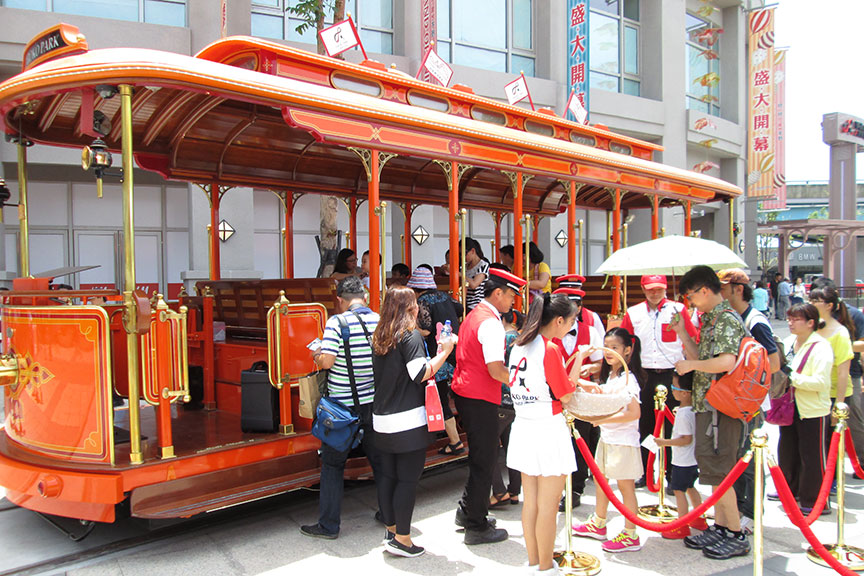 Taroko Park Trolley - Kaohsiung, Taiwan - The Taroko Park project had its grand opening on May 9, 2016, in Kaohsiung, Taiwan. The Taroko Park shopping center and sports-themed amusement park has battery-powered, open-style trolley #ML666 transporting guests from Fountain Park to the Suzuka Circuit Park.

"Americana At Brand" Trolleys - Glendale, California - The "Americana At Brand" project had its grand opening on May 1-2, 2008, in Glendale, California. The shopping and residential center has two open-style Gomaco trolleys, a battery-powered lead car, #1717, and an unpowered trailer car, named GiGi, to transport guests around the facilities.

Replica Birney Trolleys - Charlotte, North Carolina - Opening festivities were the weekend of October 16, 2004. The Charlotte Area Transit System debuted their three replica Birney trolleys, numbered #91, #92 and #93, which provide transportation along a 2.1 mile route in the Historic South End.

Replica Birney Trolleys - Little Rock, Arkansas - Their three replica Birney trolleys were debuted at a week-long celebration starting on November 1, 2004. The Central Arkansas Transit Authority runs their trolleys, #408, #409 and #410, on a 2.2 mile route connecting North Little Rock and Little Rock.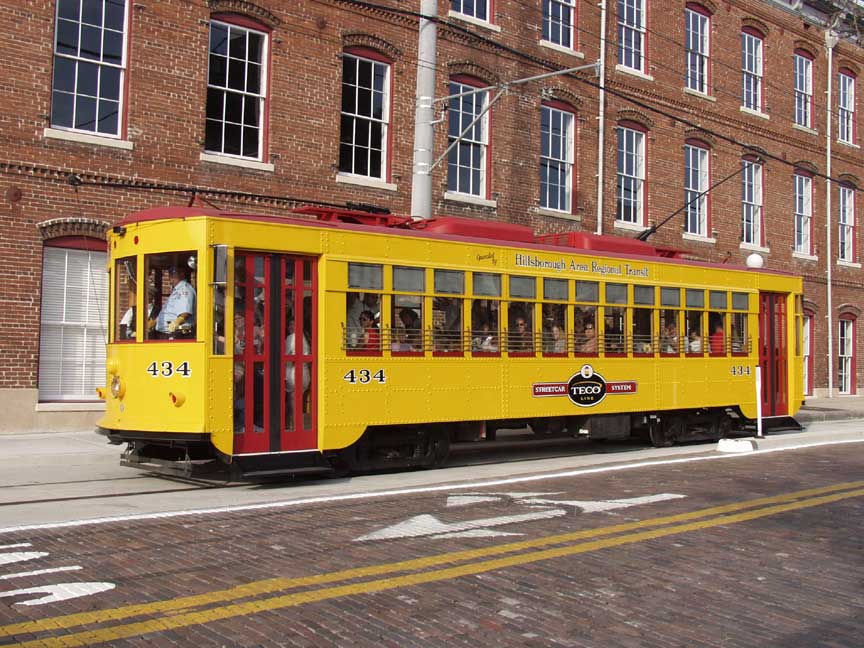 Replica Birney Trolleys - Tampa, Florida - They had their grand opening for the TECO Streetcar line the weekend of October 19 and 20, 2002. Eight replica Birney trolleys, numbered #428 through #435, provided transportation through the YBOR historic district in Tampa during the premiere weekend.

Peter Witt Trolley - Mount Pleasant, Iowa - Peter Witt trolley #1945 had its debut during the Midwest Old Threshers' Reunion in Mount Pleasant, Iowa, over the Labor Day weekend 2002. Click here to learn more about reconditioned trolleys at Gomaco Trolley Company.
Gomaco Trolley Is Inspiration For 2007 White House Christmas Tree Ornament
Gomaco Trolley #1601 was the inspiration for an ornament which was a part of the 2007 official White House Christmas tree.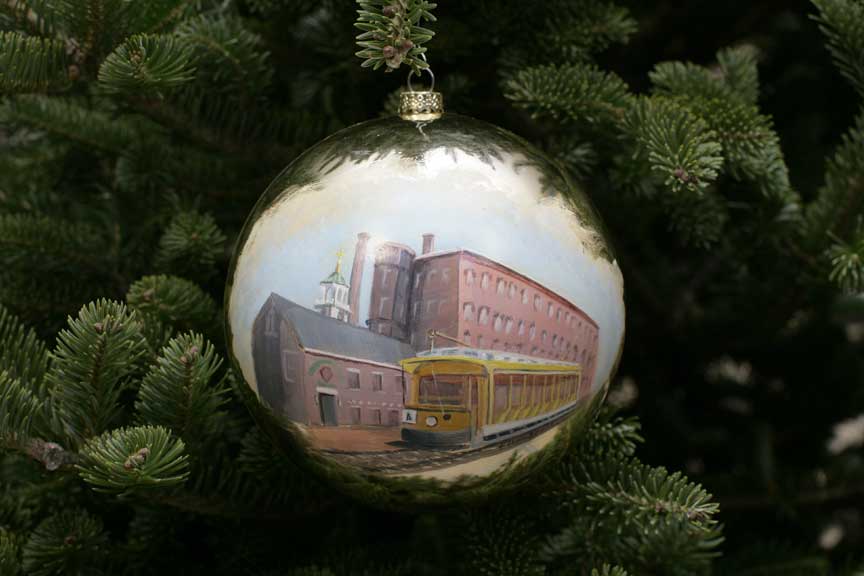 Photo courtesy of the White House
Trolley #1601 is a 15-bench, open-style trolley, and represents the beginning of Gomaco Trolley Company. This car, and a second car #1602, were constructed for the Lowell National Historical Park in Lowell, Massachusetts, in 1984, and are authentic reproductions of the 1597-1600 series cars manufactured by J.G. Brill Company. A third enclosed car, #4131, joined the open-style cars in 1987.
"Holiday in the National Parks" was chosen as the theme for the 2007 White House Christmas tree, and its goal was to highlight the majesty, history, and diversity of the country's 391 national parks. Lowell National Historical Park employee Ellen Frost designed and created the park's holiday ornament, which was on display in the Blue Room in the White House. Frost worked with the park staff to select the appropriate imagery for the six-inch plastic ball. Using acrylic paints, she created two images of Lowell, with the trolley park on one side and Pawtucket Falls on the other side.