Gomaco Trolleys In The News
Ding! Ding! Ding! - Trolley is the right answer for historic urban core
Article courtesy of Roads & Bridges magazine; August 2012
St. Louis, Missouri; Reconditioned Peter Witt Trolleys
(PDF Format, 532 KB)
Issaquah Valley Trolley is back on track, poised to return
Article courtesy of the The Issaquah Press; August 14, 2012
Issaquah, Washington; Reconditioned J.G. Brill Trolley
Grand Opening For "Americana At Brand" Trolleys In Glendale, California

The "Americana At Brand" project had its grand opening on May 1-2, 2008, in Glendale, California. The shopping and residential center has two open-style Gomaco trolleys, a battery-powered lead car, #1717, and an unpowered trailer car, named GiGi, to transport guests around the facilities.
Trolley Celebrations In Charlotte, North Carolina; Little Rock, Arkansas; and Tampa, Florida

Charlotte, North Carolina, had its opening festivities the weekend of October 16, 2004. The Charlotte Area Transit System debuted their three new replica Birney trolleys, numbered #91, #92 and #93, which will provide transportation along a 2.1 mile route in the Historic South End.

Little Rock, Arkansas, debuted their three new replica Birney trolley cars at a week-long celebration starting on November 1, 2004. The Central Arkansas Transit Authority will run their trolleys, #408, #409 and #410, on a 2.2 mile route connecting North Little Rock and Little Rock.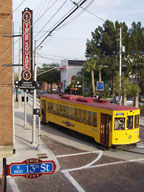 Tampa, Florida, had its grand opening for the TECO Streetcar line the weekend of October 19 and 20, 2002. Eight replica Birney trolleys, numbered #428 through #435, provided transportation through the YBOR historic district in Tampa during the premiere weekend.








Peter Witt Trolley Is A Part Of Annual Threshers' Reunion In Mount Pleasant, Iowa

Peter Witt trolley #1945 traveled to its new home in Mount Pleasant, Iowa, and had its debut during the Midwest Old Threshers' Reunion over the Labor Day weekend 2002. Select the following links to learn more about reconditioned Peter Witt trolleys and Peter Witt trolley #1945.
Gomaco Trolley Provides Inspiration For 2007 White House Christmas Tree Ornament
Gomaco Trolley #1601 was recently the inspiration for an ornament which was a part of the 2007 official White House Christmas tree.
Trolley #1601 is a 15-bench, open-style trolley, and represents the beginning of Gomaco Trolley Company. This car, and a second car #1602, were constructed for the Lowell National Historical Park in Lowell, Massachusetts, in 1984, and are authentic reproductions of the 1597-1600 series cars manufactured by J.G. Brill Company. A third enclosed car, #4131, joined the open-style cars in 1987.
"Holiday in the National Parks" was chosen as the theme for the 2007 White House Christmas tree, and its goal was to highlight the majesty, history, and diversity of the country's 391 national parks. Lowell National Historical Park employee Ellen Frost designed and created the park's holiday ornament, which was on display in the Blue Room in the White House. Frost worked with the park staff to select the appropriate imagery for the six-inch plastic ball. Using acrylic paints, she created two images of Lowell, with the trolley park on one side and Pawtucket Falls on the other side.
Trolley Links
Visit trolley sites by organizations, cities and trolley enthusiasts. To add your site to the list, send an e-mail to bwonder@gomaco.com.
E-Mail Us Your Photos!
If you have any Gomaco Trolley photos which you would like to have included on this web site, please send them to us. We will include them on the new "Snapshots From The Road" page.
Expansion Of The Gomaco Trolley Building
The Gomaco Trolley Company building was expanded in 2007. Click here to see photos of the new areas.
Gomaco Trolley Company Open House
Gomaco Trolley Company hosted an Open House on June 22, 2001. We had more than 850 guests enjoy our tours and hospitality. Click here to see photos from the event.