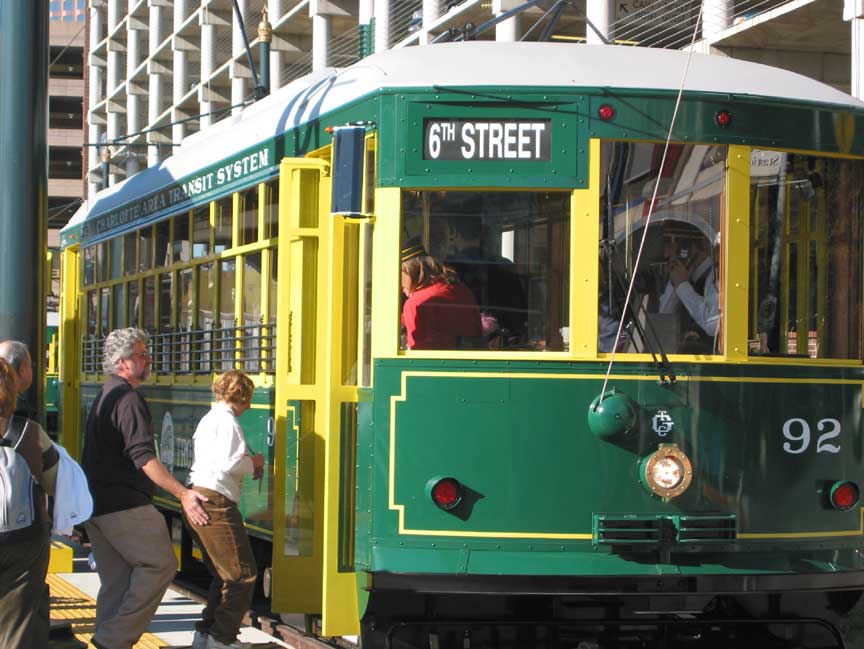 Charlotte's first streetcar system began in January 1887, with three cars drawn by two mules. One year later, the system had six cars, horses had replaced mules, and the fare to ride was five cents. The trolleys were credited with developing the city's earliest neighborhoods and economic growth.
Charlotte hoped to recreate that catalyst of growth with the reintroduction of trolleys to the city's rails. In 2001, three replica Birney trolleys were purchased from Gomaco Trolley Company, and new track was laid. A portion of new track would create a new corridor linking Uptown Charlotte and the historic South End.
It was hoped the investment would stimulate economic development along the route and property tax values would climb high enough to repay the investment in eight year's time. It took only four years to repay the investment, with property values in the corridor increasing by 89.6 percent along the route.
State-of-the-Art K35G Controller Is Standard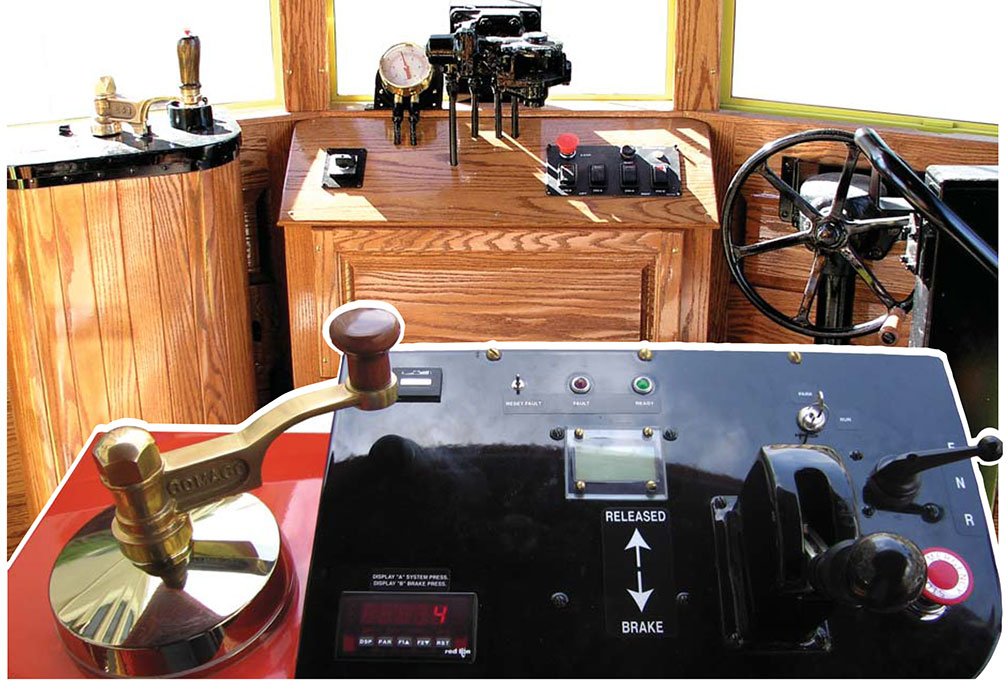 The trolley operator's station is where old-time craftsmanship and the latest technology available merge together to create a station for the operator that is both easy and safe to operate. First of all, the station has been designed for excellent visibility inside and out of the trolley, while keeping all of the operating controls within easy reach for the operator. Gomaco trolleys can be equipped with a K35G IGBT (insulated gate bipolar transistor) controller and PLC (programmable logic controller) system management to control speed and monitor power consumption. It allows the cars to travel at any speed between zero to 35 miles per hour and it will maintain any speed for an indefinite amount of time. For example, if you want to creep the trolley car at 0.5 miles per hour along the entire route, it's possible with the K35G. It includes a system diagnostics recording that can be used for troubleshooting analysis and documentation. And, with its GPS compatibility, the car location and speed can be tracked from rider kiosks or for dispatcher's monitoring.
The braking system features an air-applied, pneumatic brake system with composite shoes and a 24-volt hydraulic brake pump. The battery-powered trolleys capture their regenerative energy for recharging its own batteries. Electromagnetic rail brakes are an added safety feature to allow emergency stops. Emergency stop buttons are located at different points. Also, for added safety, there is full, dead-man integration at both operator locations, so if for any reason the operator becomes incapacitated, the car automatically stops.
Wide-Open Floor Plan, Charlotte, North Carolina – Three Cars
Charlotte Area Transit System Replica Birney Trolley Specifications
Car Numbers: #91, #92, and #93.
Car Builder: Gomaco Trolley Company, Ida Grove, Iowa 51445.
Source of Running Equipment: Peter Witt-style trucks from ATM Milan, Italy.
Running Equipment: 30 HP General Electric traction motors. 650 volts, air/friction brakes. CP25 compressor.
Controls: Gomaco proprietary K35G IGBT (insulated gate bipolar transistor) solid state controllers. System diagnostics recording for troubleshooting analysis and documentation.
Length: 48.9 feet.
Width: 10 feet.
Height: 12.9 feet.
Weight (approximate): 48,000 pounds.
Balanced Speed: 30 mph.
Seating: 48 sitting, 57 standing (based on six people per square meter).
Total Crush Load: 105 people (does not include the operator).
Seats: Alternating oak and cherry. Eight rollover, bi-directional transverse benches. Eight fixed longitudinal benches.
Frame: New steel construction developed by Gomaco Trolley Company.
Windows: 11 per side.
Fittings, Solid Brass: New castings by Gomaco Trolley Company.
Woods: Oak, cherry, birch, and plywood.
Paint: Green and yellow. Color and details are selected by customer.
Whistles: Three-tone air chime with WABCO valves. Constructed by Gomaco Trolley Company.
Air Conditioners: 11 tons of air conditioning capacity & 10 kilowatt heat.
Communication System: Conductor PA system.
E-Stops: Red emergency stop button located in each operator station.
Steps: Pneumatic sliding steps.
Chair Lift: ADA-compliant integrated wheelchair lift.
Signal Bell: Brass, made by Gomaco Trolley Company.
Brakes: Pneumatic friction brakes with composite shoes and regenerative motor braking. Electromagnetic rail brake for emergency stop. Manual friction parking brake. Full dead-man integration at both operator locations.
Floor: Transit flooring.
Ceiling: Birch. Custom pin stripe. Integrated duct work for air conditioning.
Roof: Plywood construction with fiberglass shell and canvas cover.
The wide-open floor plan for the Charlotte Area Transit System's replica Birneys.
Construction Of Charlotte Trolleys
(Replica Birneys)
Construction Of Charlotte Trolleys
(Reconditioning #85)

Grand Opening (October 16, 2004)
Replica Birney Trolley PDF Brochure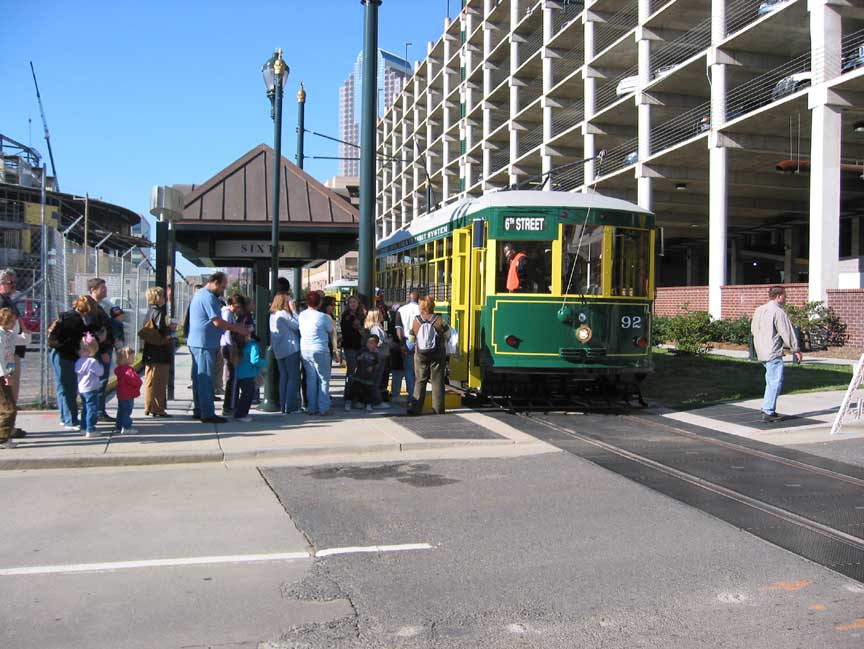 Three replica Birney trolleys began operation in Charlotte, North Carolina, in 2004.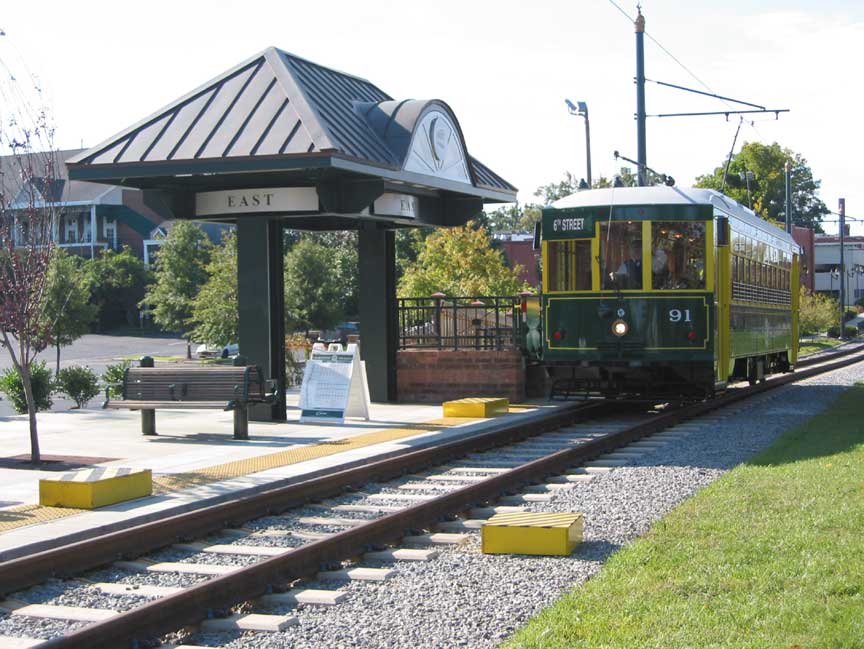 This replica Birney trolley approaches a trolley station along the route in Charlotte.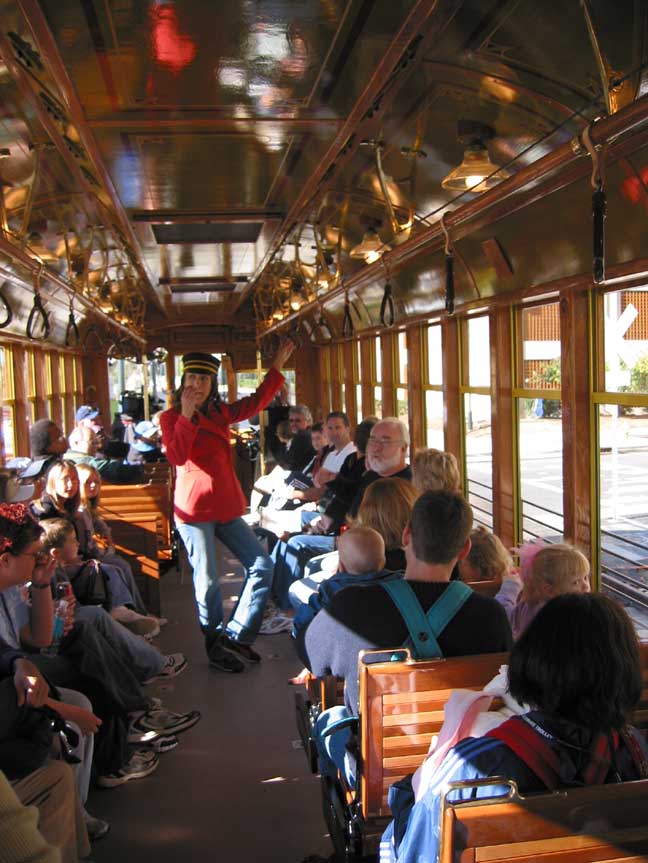 The conductor has a PA system for easy communication with riders.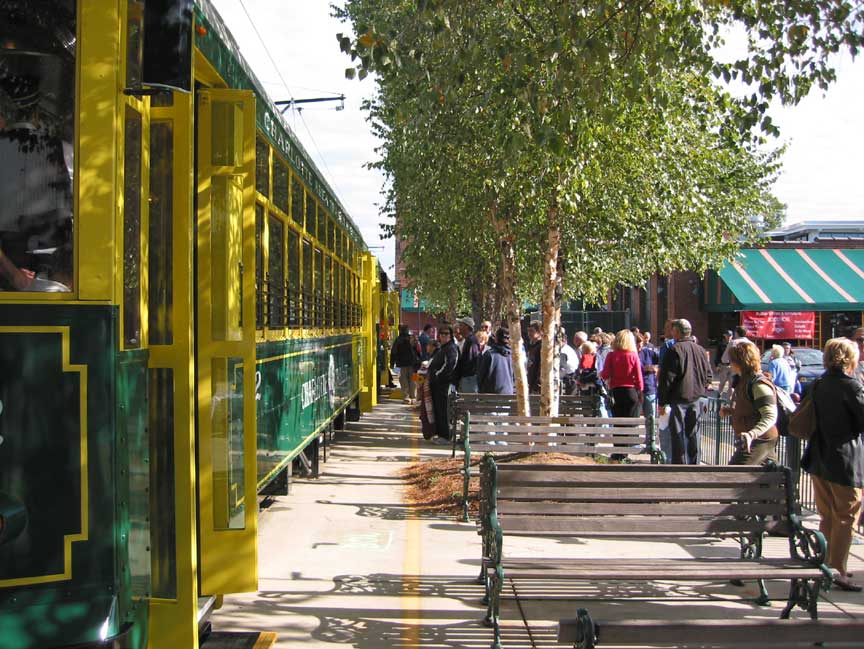 Each trolley will accommodate 48 people sitting, and 57 standing, for a maximum occupancy of 105.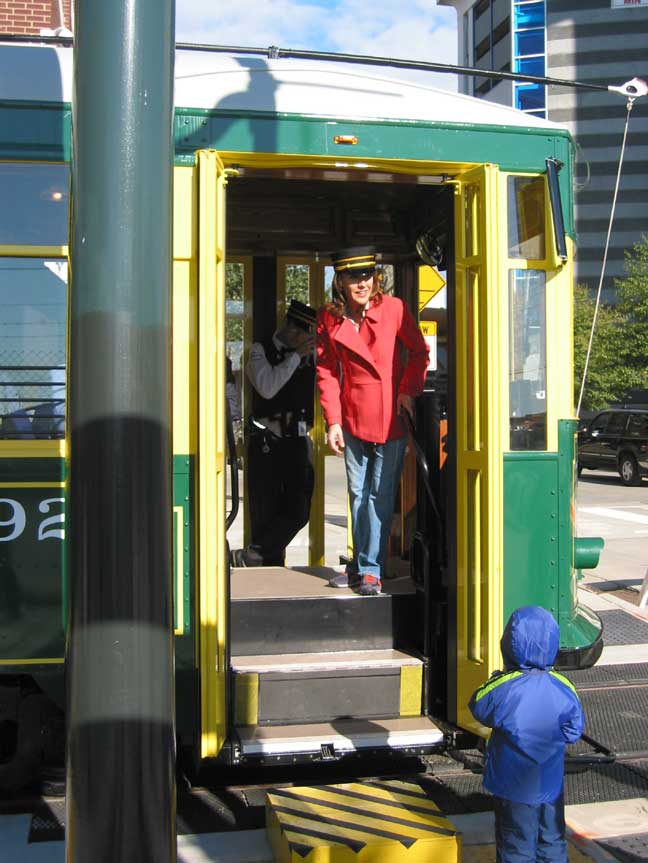 The wheelchair ramp forms into steps for the general public when retracted.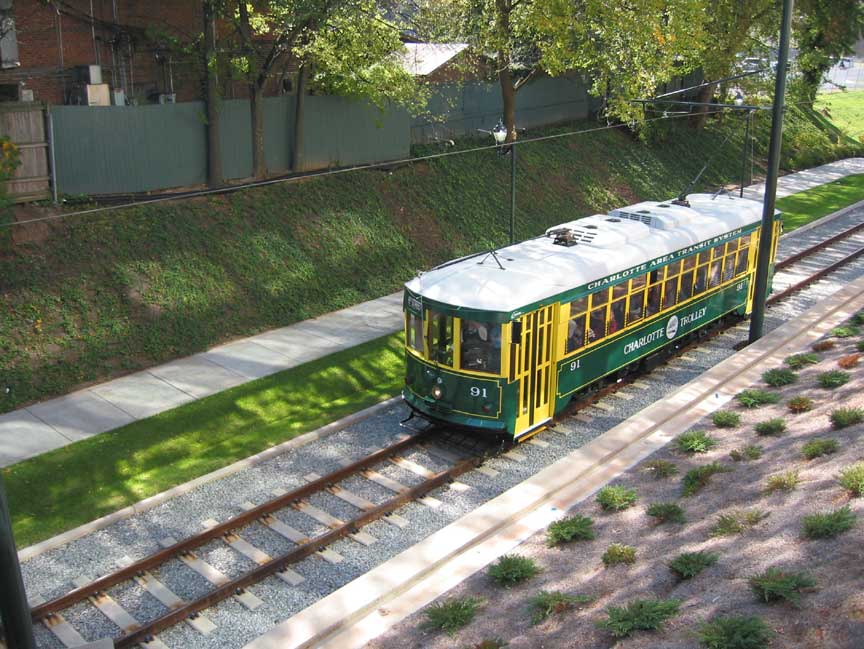 Charlotte's trolleys have air conditioning units, and 11 windows per side.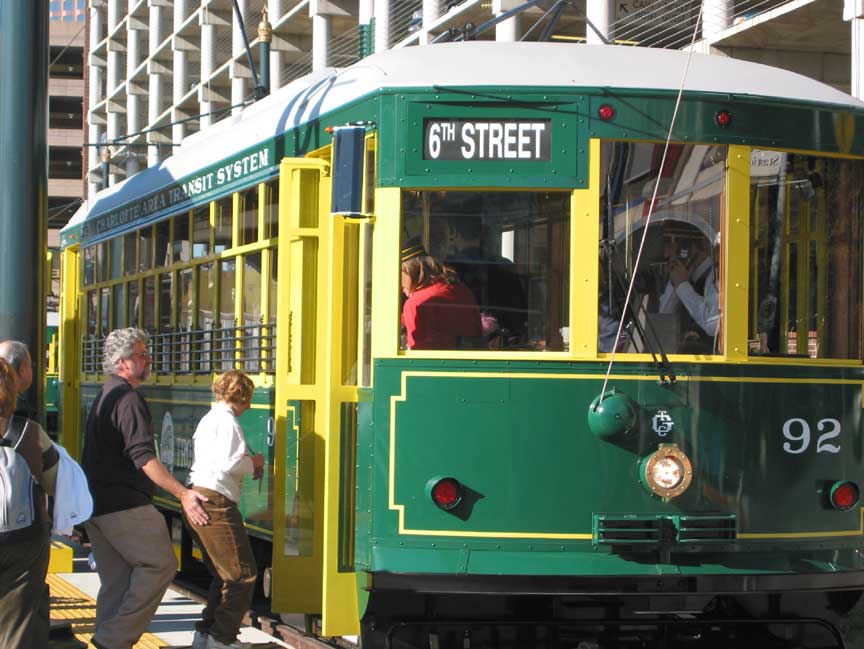 Replica Birney #92 picks up riders during its grand opening weekend on October 16, 2004.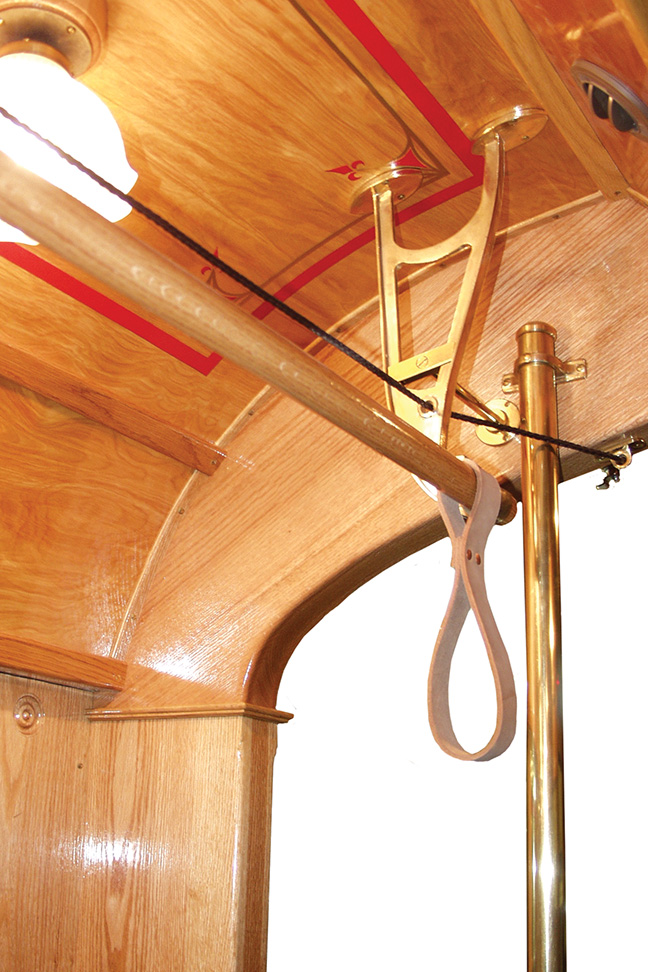 Gomaco Trolley creates its own brass castings, including this bracket for the handrail.